Daniel High School Class of 2018
The following students graduated from D.W. Daniel High School during commencement ceremonies at the school on Saturday, May 26.
Lana Alaeldein Abudabos, Lindsey Neal Alexander, Christopher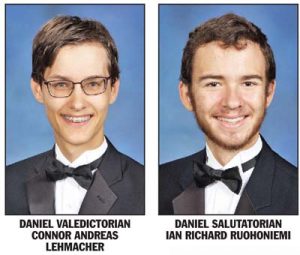 Morales Arredondo, Henry Garrett Arwood, John Christoph Aurich.
Eric James Baer, Ella Stafford Baldwin, Jackson Taylor Bandy, Brandon Lee Barkley, Jerry Allen Barlow Jr., Christopher Uriah Barnes, Carrie Ann Barton, Matthew Reese Becker, Michael Reid Becker, Kayleigh Ann Beecher, Avery Jesse Bell, K'Lynn Anndre Bell, Shyanne Angel Berry, Caleb Samuel Black, Madeline Bailey Blackwell, Miriam Alyssa Blanton, Kelly Anne Boggs, Abbey Nicole Bolick, Alyssa Nichole Brennan, Charles Howard Brooks-Knepfle, Brandon Michael Broom, Grace Elizabeth Bryant, Benjamin Martin Buck, Hannah Elizabeth Buckner, Dillon Reece Bullock, Jonathon Grey Burgett, Noah Dylan Burkett, Bailey Gwynn Burnside, Hailey Natasha Burnside, Mary Claire Burton, Rosemary I Buscher-Baird.
Sofia Cabrera, Thomas Alexander Campbell V, Benjamin Robert Cannon, Jaylen Lynette O'Brien Carter, Erica Lee Chapman, Katelyn Brianna Chappell, Ryan Kenneth Christensen, Matthew Lake Clark, Marneluis Isaiah Edward Cobb, Craig Madison Graham Cobham, D'Aundre Anthony Coleman, Wren Ashley Collins, Lauren Elyse
You must be logged in to view this content.
Subscribe Today or Login