Daniel High School Class of 2019 – Awards and Honors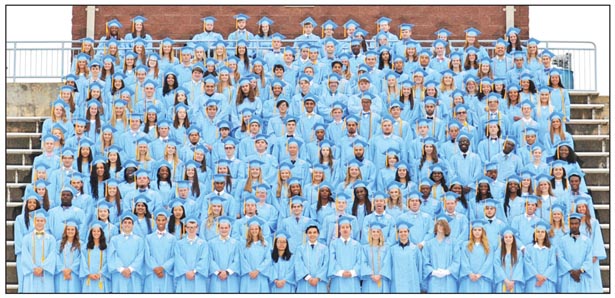 The following students graduated from D.W. Daniel High School during commencement ceremonies at Littlejohn Coliseum in Clemson on Saturday, May 25.
Rayyan Sayed Alam, Alexis Amabelle Alexander, William Brooks Alexander, Allison Elizabeth Arnold, Victoria Lynn Arnold, Stephanie Arredondo, Elizabeth Rose Asay, Rebekah Noel Asay, Connelly Morgan Ayers.
Cortlinn Caroline Bailey, Adam Abdallah Balawi, Rachel Marie Ball, Austin Lee Barkley, Marlee Elizabeth Barron, Emilyann Compton Bates, Alexander Glyn Bennett, Annah Elizabeth Birch, Cannon Ware Black, Julia Ann Blouin, Joseph Eathan Bolding, River Lee Bowling, Isaac Soloman Bowman, Noah Christopher Bowman, Logan Scott Bridges, Jacob Eric Bright, Megan Nicole Brown, Kaitlyn Phillips Brownell.
John Paul Cawood, Amina Lynn Chaar, Steven Douglas Chapman, Ashley Seoyoon Choi, Dylan O'Ryan Christmas, Skylar Mackenzie Clark, Dylan Ossielee Cloer, Clay Henry Coker, Saterra Anthia Coleman, Trevor McKenzie Collins, Fatima M Contreras, David Michael Cote, Molly Logan Craig, Kimberly Alexandria Cramer, Anastasia Noelle Crandall, Benjamin
You must be logged in to view this content.
Subscribe Today or Login