Daniel stadium to be named in Cooper's honor
By Greg Oliver
Courtesy The Journal
goliver@upstatetoday.com
CENTRAL — Late Pickens County School Board trustee Dr. Herbert Cooper was best known for spearheading the school district's massive building program that ultimately resulted in, among other things, four new high schools.
One of those new high schools was at Daniel High, Cooper's alma mater, where he served as a three-sport athlete in football, basketball and track in the late 1950s. Cooper was also part of the original Daniel High School Athletic Hall of Fame class, inducted in 2013.
In recognition of what Cooper meant on the athletic fields and, even more importantly, through his contributions as a Daniel-area representative on the Pickens County School Board for 24 years, Daniel High officials sought approval by the school board to rename its football stadium "Dr. Herbert P. Cooper Stadium."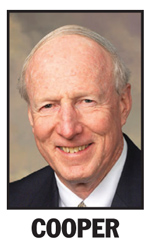 That approval was provided unanimously by the board Friday during a special called meeting at the district office.
Cooper passed away in early August, and trustee Phillip Bowers, who represents the Central, Six Mile and Norris areas on the school board, said he is pleased the board can honor him in this manner.
"It was an honor to serve with him on the board," Bowers said. "He sacrificed immensely over decades in support of our community and children. His wisdom, calmness and thoughtful demeanor is missed, but the memory of his contributions to education in Pickens County will live for ages at his much-loved alma mater, D.W. Daniel High School."
Board chair Judy Edwards said funding for the sign will come from the school board's contingency fund. Edwards added that Cooper's wife has been contacted "and is very pleased because of Dr. Cooper's participation as an athlete, and the school is in agreement as well."
"This is very fitting for Dr. Cooper, and we're glad to honor him in some way," Edwards said.
Daniel High School principal Josh Young submitted a letter to school superintendent Danny Merck requesting the stadium naming.
"Dr. Cooper had a tremendous impact on the success and culture of all aspects of Daniel High School," Young said. "Members of our staff and the community have requested that he be honored in a special way here at his alma mater. His legacy as a student athlete here and as a valuable member of our community and school board made it an obvious decision to name a special place here at DWD after him."
Young added that a dedication will likely take place during the 2017 football season. The playing surface at the stadium will retain its longtime name, Singleton Field, Young said, adding that legendary Daniel coach Dick Singleton was among those who backed naming the football stadium after Dr. Cooper.
goliver@upstatetoday.com | (864) 973-6687
Follow on Twitter @JournalGO