Defense shines as Tigers topple Auburn
By Scott Adamson
Courtesy The Journal
scott@upstatetoday.com
CLEMSON — One of the oldest clichés in sports suggests that defense wins championships.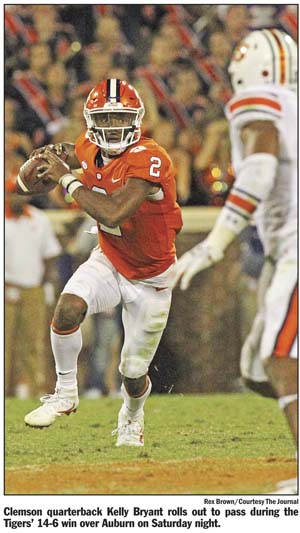 If that's the case, the 2017 Clemson Tigers should feel pretty good about defending theirs.
Brent Venables' bruise crew punished Auburn from wire to wire — finishing with 11 sacks — and the Clemson offense had just enough punch to deliver the knockout blow in a 14-6 win on Saturday at Memorial Stadium.
"Welcome to 1988," joked Clemson coach Dabo Swinney. "That's what it felt like tonight. It's been a long time since we've punted the ball that many times and played that conservative, but man, that was a great defensive game. Just dominant football defensively."
Kelly Bryant shook off a big hit in the first half to lead the defending
You must be logged in to view this content.
Subscribe Today or Login