Deputy shoots Easley burglary suspect
EASLEY — The South Carolina Law Enforcement Division is investigating after a Pickens County Sheriff's Office deputy shot a man during an alleged burglary on Sunday afternoon.
According to a news release from sheriff's office chief deputy Creed Hashe, a deputy responded to a home on Latham Road in Easley after a woman called 911 at around 3:20 p.m. about a suspicious person who was inside her home after forcing entry.
[cointent_lockedcontent]
Hashe said the deputy arrived around 12 minutes after being dispatched and entered the home after seeing evidence of the forced entry.
The deputy allegedly found the man, later identified as 18-year-old Franklin Reed Styles, armed with a rifle and a handgun inside the home, according to Hashe.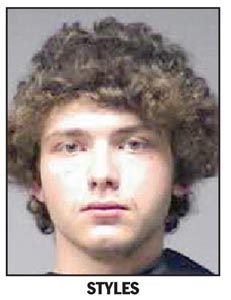 Hashe said the internal review into the case has indicated the deputy told Styles to drop the weapons, but he instead allegedly pointed the handgun at the deputy, who fired multiple shots from his service weapon, with at least one striking Styles.
Neither the deputy nor the homeowner, who was hiding in a nearby bathroom during the shooting, were injured.
Hashe said Styles was hospitalized under guard from the sheriff's office and will be transported to the Pickens County Detention Center to face multiple charges related to the incident upon his release.
The deputy involved in the shooting has been placed on administrative leave pending the results of an investigation.
Hashe said Styles had no history with the people who live in the home, and the sheriff's office has no indication anyone else was involved in the break-in.
He also said the sheriff's office will release the 911 call and the identity of the deputy involved as the investigation progresses, as soon as this week.
Pickens County sheriff Rick Clark asked SLED to investigate the officer's use of force. SLED regularly investigates officer-involved shootings at the request of the agency involved.
According to SLED spokesman Thom Berry, information gathered in the investigation will be summarized in a case file report to be submitted to 13th Circuit Solicitor's Office prosecutors.
Berry said the incident was the 24th officer-involved shooting in the  state in 2016, and the first involving a Pickens County deputy. There were 48 officer-involved shootings last year, with none involving Pickens County deputies.
[/cointent_lockedcontent]