Devils persevere for win over Blue Flame
By Jimmy Kirby
Courier Sports
jkirby@thepccourier.com
PICKENS — For most of the game, Liberty coach Kyle Stewart had to wonder what his team would have to do to overcome itself and find a way to earn a victory over county rival Pickens.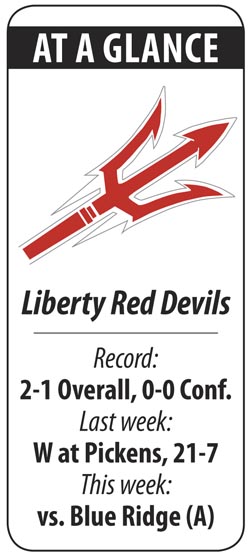 In the end, perseverance was the answer, as the Red Devils ground out a 21-7 win on Friday night to improve 2-1 on the young season. Pickens fell to 0-3 under first-year coach Chad Smith.
The Red Devils were their own nemesis for much of the first three quarters. Neither team moved the ball with much success the first quarter of action. The Red Devils began a good drive midway through the second quarter and were close to the Blue Flame red zone following a 16-yard Cavaugio Butler run to the Pickens 22-yard line.
But a holding call behind the line of scrimmage resulted in a 15-yard penalty that pushed the Devils back into their own territory at the 47-yard line. An errant snap continued to move the drive backward, and the Red Devil drive was halted and they were forced to punt.
A low snap ensued, and an Austin Kemp punt was blocked by Griffin
You must be logged in to view this content.
Subscribe Today or Login