Devils survive for history-making win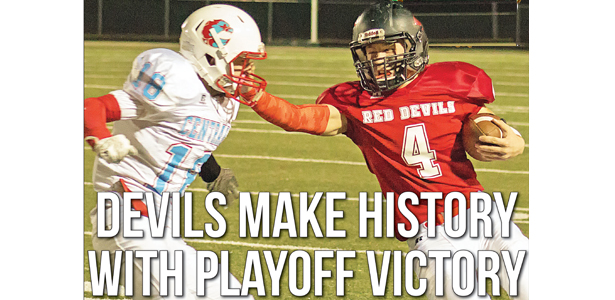 By Jimmy Kirby
Courier Sports
jkirby@thepccourier.com
LIBERTY — Defense was the key to the Liberty Red Devils winning their first-ever home playoff game, as they defeated Central High School 10-7 on Friday night.
All points were scored in the second quarter for both teams. Austin Kemp kicked a 33-yard field goal to start the scoring and put the Red Devils up 3-0 early in the second quarter.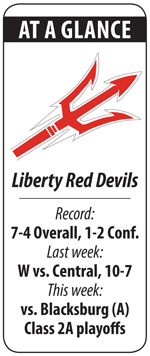 Devonte Robinson scored on a 77-yard scamper on a one-play drive for Central with 3:19 remaining in the second quarter, good for a 7-3 lead.
Cole Murphy scored on a 19-yard run with just 1:22 remaining until the half to close out the scoring for the quarter and for the game.
Liberty coach Kyle Stewart was quick to hand out praise for the historic win following the game.
"Just happy for the players and assistant coaches that have worked so hard for this," he said. "The credit goes to them. This is a memory these young men will have for the rest of their lives."
Field position played a huge part in the game. The Red Devil defense was asked to defend its side of midfield in four out of five second-half Eagle possessions.
Stewart said his confidence in his defense never wavered, however.
"It was tough, however, we have been in close games and defense has been something we could hang our hat on all season," he said.
The win was Liberty's seventh of the season and gave the Devils a second-round matchup this Friday night at Blacksburg.
Stewart said the Liberty offense, which was outgained by nearly 100 yards against Central, needs to show improvement this week if the Devils hope to advance to round three.
"We need to play better on offense going forward," he said. "We do not need to try to do too much — we just need to do our jobs. Eleven men doing their jobs at one time will make us successful."
Even though three of the five Eagle second-half drives started in Central territory, four of the drives ended deep in Liberty territory. Central marched from its own 4-yard line to the Liberty 30-yard line on the opening possession of the second half. It was an 11-play drive that covered 66 yards. Facing a fourth and two, Robinson was stopped by Clay Lollis for a one-yard loss to turn the ball back over to the Red Devils.
Doug Tate/Photo  Liberty's Cavaugio Butler finds a hole in the Central defense during their game Friday night in Liberty.
The Red Devils had a hard time mustering much offense in the second half, managing only 42 yards from scrimmage. That helped Central keep the pressure on the Liberty defense.
The Devils managed just 114 rushing yards against the Eagles. Stewart said the Central defense was talented, quick and physical.
"They were physical up front," he said. "We had some missed assignments. Their speed up front was a big factor."
The Eagles started fourth-quarter drives at the Liberty 38-yard line and the Liberty 43-yard line. Both drives ended in interceptions by the Red Devil defense. Cole Murphy intercepted a Quan Chambers pass at the Red Devil 4-yard line, and then Kevon Tabron picked off Wall on the Eagles' last possession at the Liberty 15-yard line. He returned it 16 yards to the Liberty 31-yard line to get the Red Devils out of the shadow of the end zone and into victory formation. Central had no timeouts remaining and could not stop the clock.
The Red Devil defense played perhaps its most impressive game of the season when it mattered the most Other than the long run for a touchdown, Liberty shut out a potent Central offense, one that has played a role in many successful seasons and a winning tradition.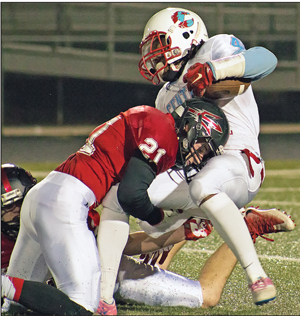 "Coach (Troy) Bowe and the defensive staff do it all," Stewart said. "They watch film and do their breakdowns and hammer it in during the week.
"And to be honest, at times the guys get a little resistant at practice getting coached hard, but at the end of the week, they get to be successful, so it makes it all worth it. It is a big credit to our players, though. We can make all the calls and adjustments we want, but they make the plays."
Doug Tate/Photo    Liberty's Ethan Harris tackles a Central ballcarrier during the Red Devils' 10-7 playoff-opening win Friday night.
It has been a number of years since the Red Devils have seen a kicker with the leg of Kemp. The junior's second-quarter field goal was the difference in the game. It was good from 33 yards out, but he had plenty of leg to make good from 50 yards.
"He has worked hard," Stewart said of Kemp. "He comes to the school on his own time to get kicking work in. Last year at the end of the season he said he was going to commit to being a good kicker, and he has done exactly what he said he would. So the credit is to him. Another year of major weight training, and I believe you will see even more improvement next season."
Robinson led all rushers in the game with 22 carries for 165 yards and the lone touchdown. The Eagles totaled only 271 yards of total offense for the game. Kevon Wall was just 3-of-11 passing for 18 yards. Quan Chambers was 1-of-2 passing for 27 yards. Each threw an interception.
The Red Devils were led in rushing by Lollis, who had 41 yards on six carries. Cavaugio Butler was the workhorse with 13 carries, and finished the game with 36 yards. Murphy added 23 yards, while Tabron chipped in with 15 yards rushing.
Nick Reeves had 73 yards passing as he was 4-of-15 with two interceptions. Michael Spruill had two receptions for 31 yards, while Tabron had one huge reception good for 33 yards.
Aaron Bates led the Red Devils with 11 tackles. He had two tackles for loss and one sack in the game. Zane Boozer and Murphy each had seven tackles. Boozer recovered a fumble, and Murphy had an interception.
Liberty will now travel to Blacksburg, the champion of Region I-2A. According to Stewart, the Wildcats' physicality is their No. 1 attribute.
"Physical, Physical, Physical football," he said when asked what it will take to pick up the huge win. "They are big up front. They will try to control the line of scrimmage, and we have to be ready to work. They had nine transfers over from Gaffney this season, I was told, so that has helped their improvement this season. They are well coached as well."
Stewart said Blacksburg is a run-oriented team.
"It's a test for sure," he said. "I personally think it's awesome. We have a chance to go to a No. 1 (seed) and beat them in their house. Team speed is much improved this season for sure. That, and they have size up front along the offensive and defensive line, which they have had the last few years."
Kickoff Friday night is set for 7:30 p.m.