Dixie Softball registration starts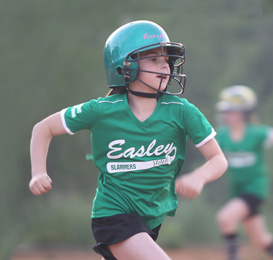 Photo by rbradleyphotos.com
It may be winter outside, but softball season is just around the corner. Dixie Softball of Easley will be holding signups for the 2014 season on Saturdays during the month of January at Hibbett Sports in Easley.
EASLEY — Dixie Softball of Easley will hold signups for its 12th season on Saturdays during January. In an effort to make signups easier this year, parents will have the option of signing up online or in person.
To register online, visit easleysoftball.com and click on the registration link. Online registration will consist of completing the registration form and then mailing a check to Dixie Softball of Easley. Online registrations will not be considered complete until payment is received.
In-person registration will be held during four Saturdays in January at Hibbett Sports. Registration is scheduled for 10 a.m.-2 p.m. Saturday, Jan. 11, 18 and 25 at Hibbett Sports in Easley, which is located between The Home Depot and Publix on U.S. Highway 123.
Divisions offered are: Dixie Darlings (6-8 years of age), Dixie Angels (9-10). Dixie Ponytails (11-12) and Dixie Belles (13-15). Registration fee is $70, and includes a uniform (jersey, pants and socks) and secondary insurance.
The age cutoff for each division is the age of the girl on Dec. 31, 2013. Players who register online must bring a copy of their birth certificate to evaluations. Players who register in person must bring a copy a copy of their birth certificate to registration.
Evaluations will be held in February with practice beginning in March. The regular season will run from April to May. District and state tournaments are scheduled for June and July.
Easley participates in a sub-district that includes teams from Dacusville, Pickens, Liberty, Central/Clemson, Pendleton, Six Mile and Wren.
DSE is governed by a board of parent volunteers who are dedicated to the growth of softball in Easley. The board for Dixie Softball of Easley is comprised of 10 members who have many years of service to the youth softball program in Easley. The board is comprised of Robert Bradley, Eric Goodwin, Christy Greer, Jeff Haynes, David Owen, Barbara Page, Randy Parks, Claire Root, Darryl Sprinkle and Amy Tate.
For more information, contact any board member.