Dooley receives service to Sherman College award
PICKENS — Brian Dooley, D.C., A.C.P., of Pickens, recently received the Service to Sherman College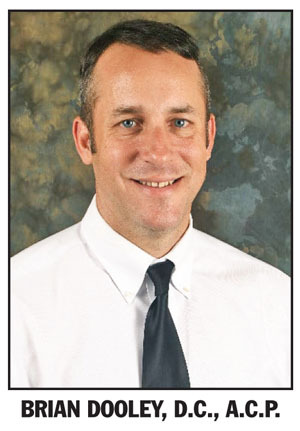 Award from Sherman College of Chiropractic in appreciation of his contributions, time and commitment to growing the chiropractic profession. The Service to Sherman College Award is given to individuals who have demonstrated extraordinary, unselfish and noteworthy service to Sherman College.
Dr. Brian Dooley is a 2005 summa cum laude graduate of Sherman College and has been in private practice in Pickens, since 2007. In 2013, Dooley joined the faculty of Sherman College, where he has served in numerous capacities as an assistant floor doctor in the Health Center, faculty member, and currently as chair of the Business Education Department. Dooley also serves as the Master of Ceremonies for Sherman College's annual Lyceum program.
Dooley is a member of the Palmetto State Chiropractic Association and is currently treasurer of the International Federation of Chiropractors and Organizations. He is a member of the Academy of Chiropractic Philosophers and has presented at many chiropractic programs, including New Beginnings, Mile High, Berkshires Philosophy Event, Sherman College Lyceum, Jones Family Philosophy Forum, Garden State Chiropractic Society, Chiro CE Destinations and the Palmetto State Chiropractic Association. He is a candidate for the Diplomate in Philosophical Chiropractic Standards and is also a presenter for that program. In 2016 and 2017, Dooley traveled with Mission Life International bringing chiropractic to the people of Haiti and the Dominican Republic. Dooley lives in Pickens, with his wife, Dawn, son, Jackson, and daughter, Sara, a third-quarter student at Sherman College.
Sherman College named its 2020 award recipients as part of Lyceum, a homecoming and continuing education event attended by hundreds of chiropractors and students throughout the U.S. and internationally. Lyceum is held each May and involves three days of seminars, special events and other programs; this year's Lyceum was held as a live-streaming event for the first time ever to preserve this crucial continuing education opportunity for Doctors of Chiropractic. More than 700 people participated.