Duke Energy Foundation gives $50K grant to Tri-County Tech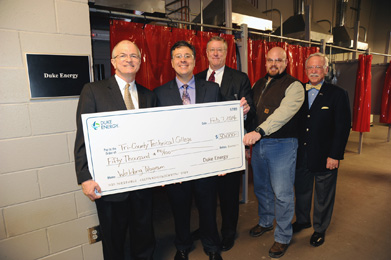 A $50,000 grant from the shareholder-funded Duke Energy Foundation will help give Tri-County Technical College welding students a real-world advantage. Pictured from left are Dr. Ronnie L. Booth, president of Tri-County, Scott Miller, district manager for Duke Energy, George Acker, S.C. vice president of external relations for Duke Energy, Paul Phelps, welding program coordinator at Tri-County, and W.H. (Ham) Hudson, chair of Tri-County's Commission.
UPSTATE — The welding program at Tri-County Technical College is getting a boost from the shareholder-funded Duke Energy Foundation that will help give students a real-world advantage.
The $50,000 grant will enable students to train and learn skills in an accelerated one-year training model that focuses on learning real-world applications used in local industries.
The implementation of an accelerated training program allows students to complete welding training in one year versus the current two-year degree model. The accelerated program requires dedicated space for this option as students spend more time in labs to achieve this one-year completion, according to Paul Phelps, welding program coordinator.
Tri-County's welding program is located at the Industrial Technology Center (ITC) facility, located in Sandy Springs.
"This grant will help meet the training needs of our 120 welding students and the workforce needs of our manufacturing partners," said John Lummus, vice president of economic and institutional advancement. "Two new companies, McLaughlin Body Works and SMF, recently located in this area, giving our graduates more job placement opportunities. The companies have been very open about the ITC facility being the deciding factor in locating in Anderson County. We look forward to conducting training for them and a host of other manufacturers who need welders," he said.
"This is an opportunity for us to help with the human infrastructure," said George Acker, S.C. vice president of external relations for Duke Energy. "It's a perfect example of a good opportunity to invest in the future workforce."
"We are grateful to Duke Energy for assisting with this expansion project," said Lummus. "Over the years, they have been one of the College's most valued community partners through their generosity and the hiring of our graduates. We appreciate their continued support of Tri-County and our students."