Easley develops plan for wreckers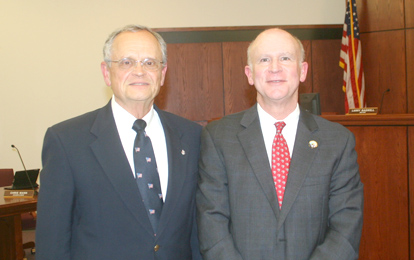 Ben Robinson/Courier
New Easley City Councilmen Kent Dykes, left, and Jim Robinson were sworn in during Monday night's meeting.
By Ben Robinson, Courier Staff
EASLEY — At the first city council meeting of the new year, Easley welcomed two new council members and voted for wrecker services operating within the city.
New councilmen Kent Dykes and Jim Robinson, along with newly elected Combined Utility Commissioner Eric Goodwin, were sworn in at the beginning of the meeting. Former Easley Mayor Chris Christopherson was with Dykes, holding the Bible as Dykes repeated the oath of office.
Councilman Brian Garrison, who served as chair of a committee to work with the city's towing services, went over several changes he needed to make in order to make the new agreement fair to all.
"We know this is not a perfect document, but we can revisit it if we see something that need to be changed," Garrison said. "Sometimes things have to be changed. But we don't want to change something just to be changing."
The measure was passed with a 6-0 vote, with former councilwoman Kim Valentin's seat being empty until an election in April to fill her unexpired term.
Council also voted Councilman Thomas Wright as the new mayor pro tem.
Wright will lead council when Mayor Larry Bagwell is not able to be present.