Easley High School Class of 2018
The following students graduated from Easley High School during commencement ceremonies at the school on Saturday, May 26.
Greg Acatitlan Jr., Hannah Nicole Albertson, Alex Emil Alexov, Chaz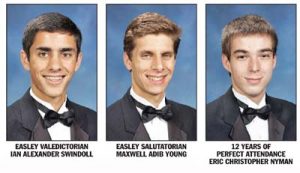 Gregory Allen, Lindsey Anne Allen, Kishun Bernard Anderson, Lianna Grace Anderson, William Alexander Anderson, Angelica Anna Anguiano, Ryan Thomas Arment, Abril Avendano Alfaro.
Austin Mark Bailey, Nathan Michael Baker, Adam Foster Ballew, Addison Forrest Ballew, Charles Drew Barkley, Craig Steven Barksdale, Cameron Patrick Barnette, Haydon Haney Barron,
You must be logged in to view this content.
Subscribe Today or Login