Easley hoping to build on late-season momentum in year two under Durrah
By Eugene Jolley
Courier Sports
ejolley@thepccourier.com
EASLEY — The Easley football team will play the 2021 season with heavy hearts.
Junior defensive back Jordan Jenkins was killed in a car wreck early in the summer. Jenkins started two games as a sophomore and would have likely started
somewhere in the secondary.
"It's been tough," second-year Easley head coach Jordan Durrah said. "The biggest thing is the kids just want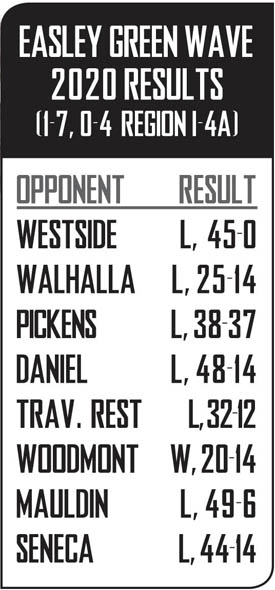 to make him happy — to play hard on and off the field. They want to represent him on the field."
Durrah said Jenkins was a likely starter.
Easley went 1-7 in the uncertain year that COVID-19 brought last season. The Green Wave beat Seneca convincingly in the season finale.
The Green Wave
You must be logged in to view this content.
Subscribe Today or Login