Easley in must-win mode as end nears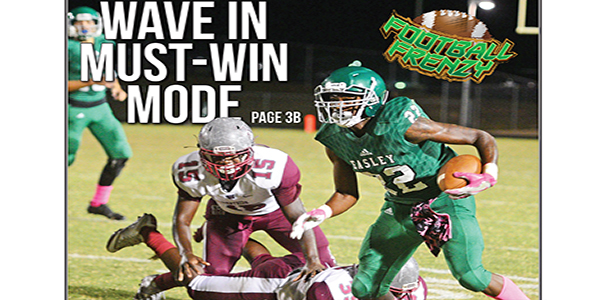 By Eugene Jolley
Courier Sports
ejolley@thepccourier.com
EASLEY — The Easley Green Wave will be in a very familiar situation when they return to action after last week's open date with a road trip to Woodmont on Friday night.
The Green Wave (3-5, 0-2) need to win the final two games — against the Wildcats on Friday night and at home against J.L. Mann the following Friday to close
out the regular season — to clinch a Class 5A state playoff berth.
"Same situation as last year," Easley coach John Windham said. "I think Woodmont is much improved, and I know J.L. Mann will be tough. We're going to regroup and hit it hard these last two weeks. Woodmont is the next one, so they will take all of our energy and all of our focus."
Easley limped into its open date after three consecutive shutout losses.
The Green Wave's schedule has had several heavyweights, including unbeaten T.L. Hanna, and once-beaten Greenville and Belton-Honea Path. All three teams are ranked in the top five of their respective classes.
A big key during the open date has been getting healthy. The Wave have been bitten hard by the injury bug this season, especially on offense.
"One of the biggest things is that we've just got to get healthy," Windham said. "We've done some good things. We just have to put it together. "
Junior quarterback Weston Black returned to play against Westside the week before the open
You must be logged in to view this content.
Subscribe Today or Login