Easley man sentenced in NC church murder
Hill pleaded guilty in April
By Jason Evans
Staff Reporter
jevans@thepccourier.com
ASHEVILLE, N.C. — An Easley man has been sentenced to 16 years in federal prison in connection with a 2015 murder on federal land.
Forrest Dakota Hill, 23, must also serve five years of supervised release upon completion of the 200-month sentence. All federal sentences are served without the possibility of parole.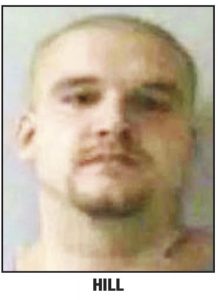 Jill Westmoreland Rose, U.S. Attorney for the Western District of North Carolina, announced the sentence in a news release last week.
On March 29, 2015, the Cherokee Indian Police Department received a 911 call about a a stabbing that had taken place inside Oconaluftee Baptist Church, also known as the Smokemont Baptist Church, according to court documents. The church is located inside the boundaries of the Great Smoky Mountains National Park.
Paramedics responding to the scene determined the victim, Tyler Gaddis, 25, of Whittier, N.C., had been stabbed to death, court records show. He had been stabbed at least 16 times in the back, neck, chest and elsewhere.
According to court records, Hill, another person and the victim drove to the church together. Over the course of their visit, Hill stabbed Gaddis "during an unprovoked attack, causing the victim's death," the release said. Hill and his companion then left the church, returning to Harrah's Cherokee Casino. There, they picked up another companion and left for another local hotel.
Hill pleaded guilty to a second-degree murder charge in April 2016. He is currently in federal custody.
Officials applauded the sentence handed down by U.S. District Judge Martin Reidinger.
"It takes a depraved person to kill another human being, but an evil one to carry out the murder inside a religious institution founded upon the belief in the sanctity of human life," Rose said. "While we can never replace their loved one, we hope that Hill's lengthy prison term will bring closure to the victim's family and friends."
The investigation was handled by the FBI, National Park Service and the CIPD.
"Today's sentence ensures that a killer has been taken off our streets," Charlotte Division FBI Special Agent in Charge John A. Strong said last week. "I want to thank NPS and CIPD for their invaluable assistance with this investigation. This case is an example of federal and tribal law enforcement working together to bring justice to the citizens of western North Carolina."
"The National Park Service appreciates the coordination and cooperation of all involved agencies to bring this case to a successful prosecution," said Steven Kloster, Chief Ranger of the Great Smoky Mountains National Park.
Assistant U.S. Attorney John Pritchard of the U.S. Attorney's Office in Asheville prosecuted the case.