Edwards receives SWU scholarship
CENTRAL — Carson Edwards signed a letter of intent to attend Southern Wesleyan University on a music ensemble scholarship.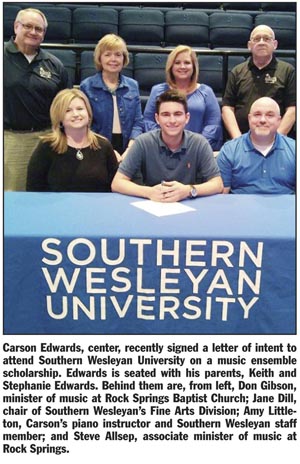 Edwards is a 2017 graduate of Powdersville High School. Graduating with honors, he received the Patriot Scholar Award and was a member of the National Honor Society. Edwards also graduated with Honors from the Computer Services Program at the Anderson District Career and Technology Center. While at Powdersville, he participated in the Powdersville State Champion Marching Band as well as the Powdersville Show Chorus. His personal interests include serving in the Rock Springs Baptist Church Orchestra and singing in the Youth Choir. He is most passionate about his leadership role in the Young Men's Quartet. Known as the Bow Tie Quartet, they travel to churches and venues where they sing four-part harmony quartet songs.
"Through the years, Carson has been blessed to have many positive influences in his
You must be logged in to view this content.
Subscribe Today or Login