Enjoying the nuts on the family tree
This year our family reunion was at Stratford Hall in Virginia. My poor brother was charged with driving me and our cousins, Becky and Liz, to the event. On Thursday, I drove up to Winston Salem, where Liz lives, and Matt met us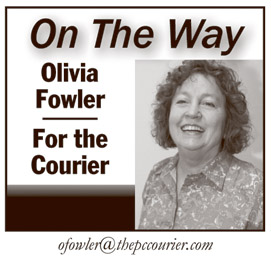 there, driving from Angier, N.C. We were royally fed and entertained, talking around the table and catching up.
Friday morning, we loaded up and drove up to Richmond to pick up Becky, who'd flown in from Miami. We knew about Becky's legendary suitcase and were all a little concerned about getting it into the trunk as, believe me, we were already pretty fully packed.
But we managed by unpacking the truck and rearranging everything several times. At least Matt did. We stood on the curb and watched with interest, occasionally giving unwanted advice.
Since we couldn't get everything back into the trunk, we had to pack some smaller items in the backseat where Becky and I traveled. Liz was in front with Matt, as she was in charge of reading directions and remaining calm if we got lost. She's good at this, as she has 20 years experience as a first-grade teacher and is unflappable.
My brother is a big man and likes to keep the interior of the car cool as he feels the heat. Becky lives in Miami and has poor circulation. She likes it warm in the car.
After a few minutes of traveling out of Richmond, she said, "It seems cold in here. What's the thermostat set on?"
Liz piped up, "Be glad, Becky. Matt keeps it on 60 degrees, and I've negotiated with him to get it up to 62 degrees."
Becky said, "What?"
Matt said, "62 is as high as it goes. That's my limit."
I, who had already spent four hours in the car, had his garment bag draped over my legs, my rain jacket on and his jacket on top of that. Becky put on her sweater, and we went from there.
But everybody agreed on the radio station. We had great music from the '60s, '70s and '80s, and we all know the words. I thought we could have been a backup group for any of the greats.
When we got to Stratford House, we checked into our log cabins, located on the grounds, and explored a little, meeting cousins as we walked around. We spent a great time that evening at a family party, reconnecting with cousins we only see once a year, catching up on events and talking each other to death. It's amazing how much we all have in common, aside from family resemblances.
There were 90 people there, and in some cases we're related on more than one side. We're scattered all over the country and had family there from most of the Southeast, Texas, Colorado, California and even Canada.
Behind Stratford Hall is the Potomac River. There's a cleared way all the way to the river called the Tobacco Roll because it's where hogsheads of cured tobacco were rolled down to the landing to be loaded on ships bound for England. Saturday evening, we joined the entire family at the house, which is truly beautiful. We had fun. In addition to admiring the architecture, we found my brother's nose on the faces of a number of other men in attendance and two of the family portraits in the great hall.
As it grew dark, we were given lanterns with candles to hold on our walk back to dinner. We had a blast at the dinner dance, sharing a table with some interesting cousins from Milwaukee who are restoring a historic pub and cousins from Colorado who are also history buffs.
And when the music started, so did we. We already knew who the good dancers were, so we had lined up partners, as Matt couldn't be expected to dance with three women all evening at the same time. There are limits. Our cousins from Connecticut all hit the floor, as did the other men at the table. We had to make a few adjustments to the playlist. We had a nice DJ who just needed to change his concept about what we wanted to hear. I like Frank Sinatra as much as the next person, but you cannot dance to New York, New York. We needed Motown and we got it. Aretha, James Brown, Queen Percy Sledge and a host of others made the cut.
Finally, they threw us out. We had a great time and will do it again next year. There's nothing like family get-togethers. We're all looking forward to it.