Etienne, Tigers' ground game shine in victory over Eagles

By Eric Sprott
Courtesy The Journal
eric@upstatetoday.com
CLEMSON — Coming off a game in which its ground game was virtually nonexistent the previous week, the Clemson coaching staff was intent on the Tigers pounding the ball Saturday afternoon against Georgia Southern.
And with Travis Etienne leading the charge, consider it mission accomplished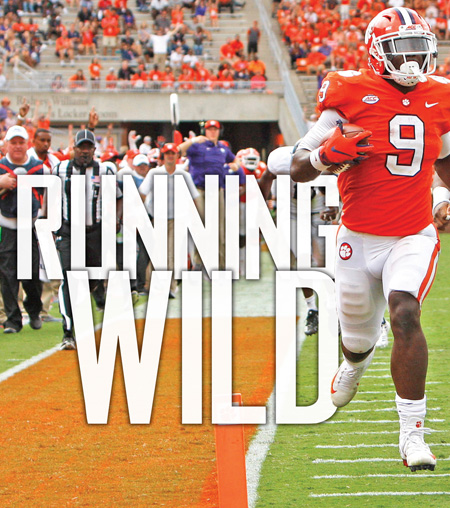 in second-ranked Clemson's 38-7 win over the visiting Eagles at Memorial Stadium.
The Tigers' sophomore running back had a career day, rushing 16 times for 162 yards and two touchdowns, helping pace a Clemson rushing attack that piled up 309 yards on 46 carries — good for 6.7 yards per carry — to provide excellent balance with 286 passing yards on the day.
All totaled, Clemson (3-0) finished with 595 yards of total offense, much to the delight of co-offensive coordinator Jeff Scott.
"That was definitely something we talked about," Scott said of the rushing attack, adding the team's goal was to top 250 yards on the ground. "To be our best, we have to be balanced, and we have to run it. It's definitely something for us to build on."
The previous week at Texas A&M, Clemson running backs carried the ball 13 times for just 70 yards — the team finished with 115 yards on 32 totes — and the Tigers had rushed for only 364 yards through two games entering Saturday.
But Etienne in particular helped Clemson enjoy a breakout ground performance against the Eagles (2-1) in what was his second career 100-yard performance, and his first since going for 113 yards against Boston College on Sept. 23, 2017. His 162 yards marked the top yardage total by a Clemson running back since Wayne Gallman went for 187 yards against North Carolina in the 2015 ACC Championship Game.
"I just feel like a running back is a reflection of his offensive line," Etienne said. "They did their job, and the receivers really did a great job of blocking to free things up on the outside. It helps the back out a lot.
"I feel like it was just kind of coming to me, and I wasn't forcing it."
Etienne opened the scoring with a one-yard touchdown plunge in the opening quarter, and he also provided the final score of the afternoon when he broke free for a 40-yard score with 2:03 left to play — his longest run of the season.
"It just finally happened because of me being patient and not forcing it," Etienne said of breaking off the long scoring run.
The 40-yard touchdown scamper put Etienne over the 1,000-yard mark for his career, and he's now found the end zone in 13 of his 16 career games as a Tiger.
In addition to the play of Etienne, the performance of Tavien Feaster may have been just as important, even if the "wow" factor may have been missing.
The junior carried 10 times for 32 yards, including a one-yard touchdown, while he also caught a pair of passes for 18 yards. For perspective, Feaster — who missed time during fall camp after undergoing a minor procedure on his knee — came into Saturday with just five carries for 23 yards this season.
With conference play set to begin this Saturday (3:30 p.m., ABC) at Georgia Tech, Clemson needed to get Feaster hot last week, as he's a key piece of the offense after starting last year and finishing second on the team with 669 yards and seven touchdowns on 107 carries — the same number of carries Etienne had during his freshman campaign.
"He's a guy that got started a little bit slow coming off a little cleanup on his knee during fall camp," Scott said of Feaster. "He's really been working to kind of get back to playing faster and getting in playing shape, and I thought he did. Not only did he have a couple of nice runs, but I thought he caught the ball out of the backfield and made a nice play on our sideline."
"I felt like Tavien had his best game today," Etienne added. "There was one play where there was nothing there, but he just blew it up and got those extra 10 yards. I feel like he had a big game."
Adam Choice had seven carries for 49 yards, including a 10-yard touchdown, on Saturday, while true freshman Lyn-J Dixon carried the ball five times for 26 yards, as Clemson got production from all four of its backs in easily surpassing the 250-yard goal that was set out heading into the game.
"All of our running backs did good things," Clemson head coach Dabo Swinney said. "We ran the ball like we needed to."