Exciting times for Six Mile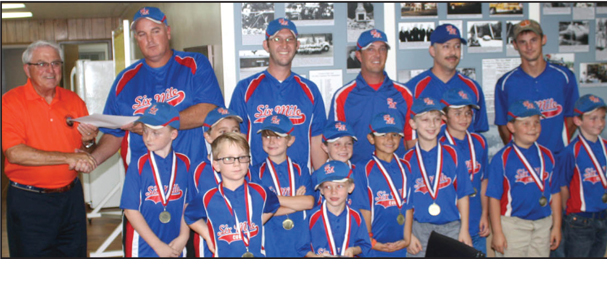 The Town of Six Mile is experiencing some exciting times as of late. During the town's monthly council meeting held last Tuesday, Nov. 1, council enjoyed an opportunity to celebrate with the Six Mile Cubs 8-and-under baseball team. The Cubs won the 2016 Tri-County Coaches Pitch tournament. Members of the team include Gavin Elrod, Evan Tribble, Eli Stewart, Luke Turner, T.J. Borow, Colten Turner, Sam Blondeau, Mac Bartels, Noah Martinez, Ryan Hendricks and Braidon Galloway. The team is coached by Justin Holliday, Benny Hendricks, Rusty Elrod, Tim Borow and Travis Tribble.
Pictured at left, Six Mile mayor Roy Stoddard presents a proclomation to the team. Council was also pleased to receive a check from Duke Energy's Emily DeRoberts, shown with Stoddard at right, that will go toward further development of plans for downtown near the recently purchased John Dillard House on Main Street.