Father-daughter legacy crosses continents
CENTRAL — In the late 1970s, Innocent Nwankwo was one of two soccer players from Nigeria who were signed to a fledgling intercollegiate soccer program at Southern Wesleyan University.
When Dr. Keith Connor was soccer coach at Southern Wesleyan, then known as Central Wesleyan College, he received a call from Dr. I.M. Ibrahim, Clemson University's head soccer coach. The NCAA changed the number of scholarships Clemson could offer, and Ibrahim was trying to place some of his players at other colleges. At that time, Connor could offer no soccer scholarships, but he approached Dr. Claude Rickman, who was president at the time, and P.B. Wood, the academic dean, to see what could be done.
"Dr. Rickman gave me the go-ahead to try to work it out," Connor recalled. "Innocent Nwankwo and Paul Agu both wanted to stay in the area because of their Nigerian friends at Clemson, so they transferred over here and helped turn our program around."
Innocent proved to be an outstanding offensive player, scoring 48 goals during his first year, a SWU record. Connor noted that Innocent would score as many as six goals during one game. He added that Agu was a good defensive player. They were good enough to help the Warriors finish third in the National Christian College Athletic Association (NCCAA) National Championships. Both players were also inducted into Southern Wesleyan's Athletic Hall of Fame.
Innocent looks back on his years at Southern Wesleyan with gratitude for how Connor treated him as a member of the family and also to Wood for his wise counsel.
"I am very grateful to Southern Wesleyan University for inducting me into the school's Soccer Hall of Fame; that was the icing on the cake, and I will live to cherish Southern Wesleyan University all the days of my life," Innocent said.
Sandra Ellison Morgan, a Southern Wesleyan University alumna, was a student when Innocent Nwankwo played on the men's soccer team and was delighted to meet his daughter, Anita, during Homecoming. Anita is a current student at Southern Wesleyan majoring in biology. Innocent Nwankwo is pictured (right) with his wife, Esther, as he was named a chief and Knight of St. Mulumba in the Catholic Archdiocese of Owerri, Imo State, Nigeria.
After graduating from Southern Wesleyan, Innocent returned to Nigeria to establish his career and raise his own family. He first worked for Adapalm, one of the largest palm oil companies in Africa. He went on to hold several management positions and was named general manager and CEO of Imo State Development Finance Investment Company, a post he held until his retirement in July 2014. Innocent was recently honored as a chief and knight of St. Mulumba, Catholic Archdiocese of Owerri, in Imo State, Nigeria.
Anita Nwankwo, the third of Innocent's six children, enrolled at Southern Wesleyan in 2015, where she majors in biology and plans to someday enter medical school. Although Anita already had an electrical engineering degree from Imo State University, she had a longing to head down a different career path.
"My mom is a nurse, so I was influenced a lot by her," Anita said, noting how she was inspired by watching her mother interact with people who sought her medical help. "Sometimes people would come to her house so she could check them up, because we don't have EMTs, so when something happens you go to your closest neighbor. She would always go to those calls at night, and my daddy would accompany her. It was amazing that she was rendering these services to people. So, that's what inspired me to go into medicine."
Anita also grew up hearing Innocent share his memories of attending Southern Wesleyan.
"He would talk about the people he met here; he would talk about Coach Connor," Anita said. "I would say that I knew Coach Connor before I met him, because he made such a huge impact in my daddy's life, so my daddy would always talk about him. Coach Connor would push him and make him become more fit."
Anita said her father would talk about how great the soccer team was and the fellowship he experienced as a player. Innocent also talked about a friend, Alexander Loggins, who would invite him to visit their home.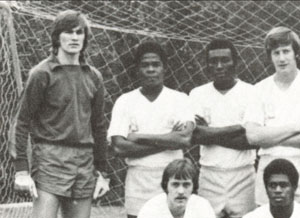 Anita wanted to study in the United States and had considered New York, since she had friends there; but Innocent wanted her to attend Southern Wesleyan, feeling this is a school he could trust for his daughter to attend.
Innocent Nwankwo (standing, second from left) in a 1978 Southern Wesleyan University men's soccer team photo. Standing to his right is Paul Agu, who along with Innocent was recruited by Coach Keith Connor to play on the team.
"It was amazing when I first got here. I was like, 'wow, my dad was here years ago!' It gives me amazing feelings," Anita said. "I would say it kind of brought us closer in a way, because we have the same birthday and now we went to the same school."
"I and my entire family are overjoyed that Anita, our child, is now attending the very university I graduated from in the USA," Innocent said. "As an intelligent child, I know she will cope very well in her academic pursuit."
Anita feels that Southern Wesleyan's faith-filled community is helping her spiritually, as her professors start classes with prayer and as God speaks to her during chapels.
"It gives you joy being able to go to chapel twice a week and hear the wonderful songs. You can't help but be in that presence of God. It's amazing that I have that opportunity to be able to worship with people and praise God and pray to God," Anita said.
Anita spends her spare time tutoring other students, working for Pioneer — the university's dining service — and watching soccer games.
Anita said of her father, "He made sure he sent us to college and we studied whatever we wanted to do. Even after five years of college he was still able to let me come here and start all over again. He is all for encouraging us and supporting us to be the best we can."
During Homecoming this past October, Sandra Ellison Morgan, who attended the university at the same time as Innocent, met Anita at the lunch tent by chance and struck up a conversation that brought forth memories and delight that she followed her father's footsteps to Southern Wesleyan.
"Anita's dad has passed on a beautiful testimony to Anita of the joys he experienced during his SWU days," Morgan said.