Fentanyl awareness rally, candlelight vigil planned
By Jason Evans
Staff Reporter
jevans@thepccourier.com
PICKENS COUNTY – Two events this month aim to educate the community and help protect it from the dangers of the potent synthetic opioid fentanyl.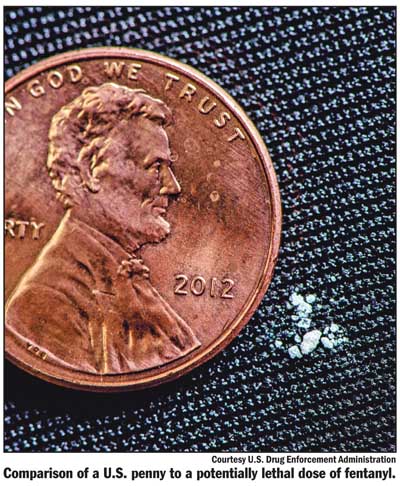 In 2021, more than 71,000 people died from fentanyl overdoses, according to the Centers for Disease Control.
The drug, which is 50 times stronger than heroin and 100 times stronger than morphine, is mixed in and disguised as other drugs such as Xanax, Percocet, oxy and Adderall.
The Drug Enforcement Administration warns that 6 out of every 10 fake prescription pills laced with fentanyl contains a potentially lethal dose, and an estimated 250-500 million pills made with fentanyl are in circulation in the United States at any time.
Many of those who use substances have no idea that fentanyl is in the substances they use – and that lack of knowledge can be fatal.
A lethal dose of fentanyl can be as small as 2 milligrams.
From 2017-2021, fentanyl-related overdoses increased 520 percent, according to data from Behavioral Health Services of Pickens County (BHSPC).
A fentanyl awareness rally will be held 1pm – 4pm Sunday, August 27 at 5424 Calhoun Memorial Highway in Easley.
The rally will feature educational and awareness materials from Behavioral Health Services of Pickens County, The Phoenix Center and F.A.V.O.R. (Faces and Voices of Recovery).
Kim Chastain, one of the event's organizers, said the idea for the rally came from a conversation with Ken Bowers with Fentanyl Education Awareness Resources (FEAR).
"FEAR is an organization that was formed by Ken and Melody Bowers that is based out of Greenville and is in honor of their son Brandon who passed away last year to fentanyl poisoning," she said. "Their passion is to also bring awareness to their community of the dangers of fentanyl by working with the Greenville County Sheriff's Office, media outlets, hosting rallies and getting out into the community and speaking whenever it is possible."
Ken Bowers also helped organize the Pickens County rally.
"I had attended a rally back in May that they did in downtown Greenville and told him I really wanted to do one in Pickens County, since I live there, and get some more people involved, if possible," Chastain said.
Pickens County needs a group or coalition similar to FEAR, one dedicated to fentanyl awareness, she said.
"I had made contact with so many parents and loved ones that had the same heartbreaking story I had so I knew we had to come together and do something," Chastain said. "We all needed a place to connect with each other, to support each other, to work together to bring awareness and to make sure our children are never forgotten."
The Pickens County group is called Foothills Fentanyl Fight.
"We want the community to know who we are when we're out there being the voice for our loved ones," Chastain said.
Rally attendees will also be able to pick up Narcan, the opioid overdose reversal drug, and fentanyl test strips, which substance users can use to test their drug supply, to help avoid potential fatal overdoses.
Vampire Penguin will be set up at the rally selling cool treats.
Thursday, August 31 is International Overdose Awareness Day, "the world's largest annual campaign to end overdose, remember without stigma those who have died from overdose and acknowledge the grief of the family and friends left behind," Chastain said.
A candlelight vigil will be held on the steps of the Pickens County Courthouse, located at 214 E. Main Street in Pickens, on August 31.
The program will begin at 7pm.
A banner from the South Carolina Drug Epidemic Memorial Wall and tables will be set up with pictures of residents lost to overdoses.
Attendees are encouraged to remember their loved ones by bringing pictures – no bigger than an 8×10 – to place on the memory table.
The program will also feature several speakers.