Fiesta Bowl foes Clemson, OSU partner for research
By Clinton Colmenares
Clemson University
news@thepccourier.com
CLEMSON — When the second-ranked Clemson Tigers took on third-ranked The Ohio State Buckeyes in the Fiesta Bowl on Saturday, players from both teams left it all on the field in a contest for the chance to play in college football's national championship game on Monday.
But the gridiron history between the teams (3-0, Clemson) is sometimes overshadowed by their collaborations in research. Just as athletes seek equally-matched, or superior, opponents, researchers seek collaborators who compliment and challenge their work.
One example is a multi-million dollar education project aimed at helping children who have difficulty learning how to read. Education researchers in Clemson's Reading Recovery and Early Literacy Training Center works with Ohio State colleagues to train teachers who work with struggling readers. Their efforts could dramatically reduce the number of first-graders in each state who have trouble reading and writing.
Clemson education researcher Celeste Bates works with colleagues at Ohio State to help first graders learn to read.
"The intercollegiate relationship helps us understand how our work plays out in different states," says Celeste Bates, associate professor of literacy education and director of the Reading Recovery center at Clemson. "We can study how children read and write in South Carolina, but because of state policies and mandates, it plays out differently from state to state."
Earlier this year, Coach Dabo Swinney's All In Foundation donated $10,000 to Clemson's Reading Recovery center to provide 10 books each to 300 first graders who participated in the reading intervention program in South Carolina's Upstate.
"Coach Swinney is committed to academics and the education of his players," Bates says. "For our children who look up to the Clemson Tigers, that's a good feeling to know that the coach has invested in the children of South Carolina as well as his own school."
Another project takes place in the biological sciences realm. Jim Morris, professor of genetics and biochemistry and a researcher at Clemson's Eukaryotic Pathogens Innovation Center, collaborates with two Ohio State researchers on grants from the National Institutes of Health.
"The older is with Mark Drew that has involved working with Mark's team and the National Center for Advancing Translational Sciences at the NIH to find small molecule inhibitors of an important protein from the malaria parasite Plasmodium falciparum. We have recently published the first (and smaller) leg of the work," Morris says.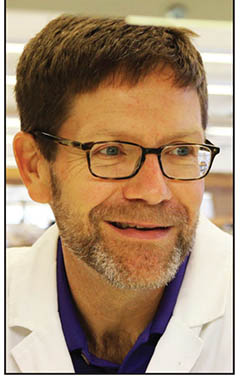 The second project, recently funded by the NIH, pairs Morris with Karl Werbovetz, the chair of Medicinal Chemistry and Pharmacognosy at Ohio State, and other collaborators from Brigham Young University, the University of Wisconsin and the University of Kansas.
With the grant, researchers will evaluate around 25,000 different molecules that may be able to starve parasites of their only source of energy: sugar.
Clemson's James Morris works on infectious diseases research with colleagues at Ohio State.
If successful, the work could lead to the development of oral treatments for African sleeping sickness, Chagas disease and Baghdad boil, an infection that has afflicted U.S. troops in the Middle East. Read more about that project here.
Bates, a big college football fan, says her close collaboration with Buckeyes leads her to cheer for Ohio State, unless they're playing Clemson.