First-ever Pickens Farmers Market set for Saturday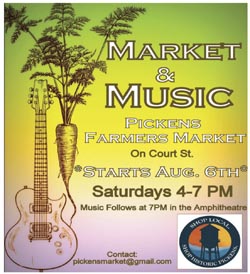 PICKENS — Area farmers and those who love the vegetables they grow will now be able to get together in Pickens, as the city has announced the opening of Market and Music, coming to downtown in August.
The Farmers Market will be held on Court Street every Saturday throughout August from 4-7 p.m. Following the market, those attending can head to the city's amphitheatre behind the historic Bradleyw-Boggs House on Main Street for music beginning at 7 p.m.
The first event will be held on Saturday, Aug. 6, and will feature vendors from all over the area.
"This is our trial run this August," city of Pickens employee Becky Horace said. "We are not sure how it will all work out, but we are hopeful for a huge turnout of both vendors and people looking for fresh produce and to enjoy the music."
The event is led by the city of Pickens with help of volunteers.
If you or someone you know would be interested in being a vendor, contact Horace at bhorace@pickenscity.com.