Flame season ends with loss to Daniel
By Eugene Jolley
Courier Sports
ejolley@thepccourier.com
PICKENS — Perhaps we will never know the three-way tiebreaker in Region I-4A.
Daniel clinched third place outright Friday night by holding off Pickens, 38-21.
The loss ended Pickens' season with a 2-8 record, 0-4 in the region. Daniel is now 6-4 overall and 2-2 in the region and will play on the road in two weeks when the state playoffs begin.
Needing a win to force the three-way tie, Pickens got down 21-0 in the first half as Daniel quarterback Ben Batson hit two deep passes where the coverage broke down.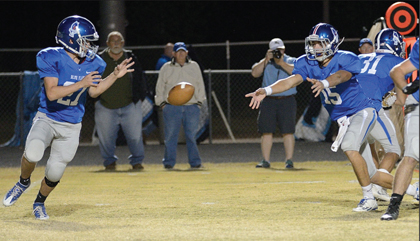 Tommy McGaha/seeyourphotohere.com
Pickens quarterback Jared Pace pitches the ball back to Brandon Batson during the Flame's season finale Friday against Daniel.
"Things we talked about that we couldn't have happen," Pickens coach Chad Seaborn said. "We had to limit their big plays and we had a couple of busted coverages and a couple of turnovers. We had a fumbled snap on the punt and we fumbled a handoff. I told them if that happened we would have to make up for it somewhere else. I thought they did that."
Pickens came out in the gray pants and blue tops, an old-school look hoping to provide a spark. But four plays into the game, the Blue Flame fumbled and Daniel's Peter Cote recovered at the Blue Flame 37.
On the next play, quarterback Batson found Brysen Smith behind the secondary for a 37-yard scoring strike with 10:22 left in the opening quarter. Nick Muchow's kick made it 7-0.
The Blue Flame struggled all night to get something going on the ground. The longest run of the night was for five yards. Pickens only had 15 yards rushing at the half and finished with just 13.
The next Daniel score came again after a Pickens mistake. Punter Stone Prince dropped the snap, and Tyler Venables and Michael Becker tackled him at the Blue Flame 27.
Following a Daniel penalty and a Robert Jones pass breakup, Batson scrambled and found Isaac Weaver, who had strayed behind the safety, for the 38-yard scoring strike with 1:42 left in the quarter, making it 14-0.
Early in the second quarter, Daniel made it 21-0 on an eight-play, 53-yard drive. Kiandre Sims took it the final three yards with 8:23 left in the half.
Pickens held there, as linebacker Cole Seaborn picked off a Batson pass at the 15 and then on fourth and two, Batson came up inches short as Seaborn and Jared Barton stopped him
"It could have been a lot worse in the first half, but we got a couple of fourth-down stops," Chad Seaborn said. "If there is ever a game that summarizes their season, it was this right here. We got down early, kept battling and made some mistakes, overcome them, then make some plays and find a way. They kept doing that, and I was proud of them."
The Lions went up 28-0 as Batson hooked up with Smith again. This time, Smith out-jumped cornerback Daniel Hooper in the end zone on a 31-yard pass with 4:24 left in the third quarter.
The Blue Flame answered through the air. Quarterback Jared Pace hit Jones for 11. Then on third and eight, Pace hit Kyle Day for 23 on a wheel route to the Daniel 34. Three plays later, Pace threw a perfect ball to Jones, who made a great catch with two defenders on him in the left end zone for 35 yards with 38 seconds left in the third quarter, making it 28-7.
The Lion defense set up the next score as Pace was sacked by Chris Barnes. The Lions then marched 53 yards in seven plays, with Batson keeping around the right side for the two-yard score with 5:30 left in the game, making it 35-7.
Pickens got a big kick return by Jones to the Daniel 44. Two plays later, Pace scrambled left and found tight end Stone Prince behind the secondary for a 45-yard scoring strike with 4:25 to play.
The Blue Flame defense then came up with a big play as linebacker Colin Hinkle stripped Cody Barnes and returned it 23-yards for the score with 3:19 left.
Daniel recovered the on-side kick and sealed the win when Muchow connected on a 19-yard field goal with 56 seconds left.
Tommy McGaha/seeyourphotohere.com
Pickens' Jared Pace celebrates with teammates after a big play against Daniel on Friday night.
"We got behind too quick, and with what we're trying to do, it's hard to come back," Seaborn said. "Their effort and their fight was inspiring to me."
Pickens senior Cole Seaborn switched from his normal No. 5 jersey to No. 60 Friday night as he started at right tackle, along with inside linebacker. He never came off the field, playing on special teams, too.
"I'm very proud of him for more than just the on-the-field stuff," an emotional Chad Seaborn said of his son. "He loves Pickens. He bleeds blue, and there is a bunch of them that do. I hate it more for them, I really do. They want it and they battle, and he's an example of that. I'm proud of all of them though."