Flame's season ends with loss at Daniel
By Cole Little
Courier Sports
news@thepccourier.com
CENTRAL — With a playoff appearance on the line, what was essentially a play-in game between county foes the Pickens Blue Flame and the Daniel Lions played out in favor of the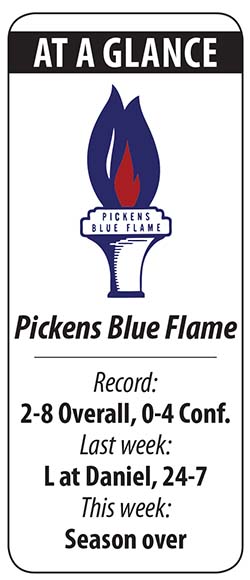 Lions.
Entering the Lions' den of Singleton Field in Central, the Blue Flame had the opportunity to earn a trip to the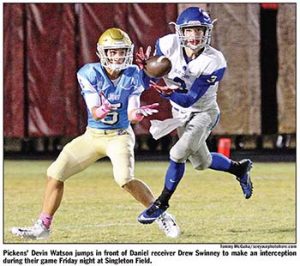 playoffs, but were unable to do so, getting shut out in the second half as part of a 24-7 defeat.
"We fought hard, but we ran out of gas," Pickens coach Chad Smith said. "Give Daniel all of the credit in the world. They came ready to play."
Compiling just 46 yards of offense on the night, Pickens was unable to settle into an offensive rhythm, with a 12-yard run by fullback Bryson Capps serving as the Blue Flame's longest play of the night. Daniel, on the other hand, was rather effective when in possession, totaling 228 yards with the football.
The Pickens defense played well at the start, though, holding Daniel to a field goal inside the
You must be logged in to view this content.
Subscribe Today or Login