Football Frenzy Extra – Palmetto State-ment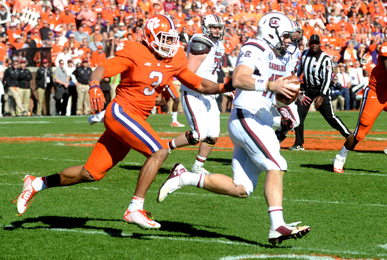 Kerry Gilstrap/Courier
Clemson senior defensive end Vic Beasley and the Tiger defense terrorized South Carolina quarterback Dylan Thompson all day Saturday. Beasley had two sacks and forced a fumble in his final game in Memorial Stadium.
Freshmen help Tigers put emphatic
end to Gamecocks' rivalry streak
By Jonathan Gantt and Colby Lanham
Clemson Athletic Comm.
CLEMSON — Enough was enough for Clemson, and especially its seniors.
And three freshmen who don't know what losing to South Carolina (6-6) is like did their part to keep it that way for at least another year.
After five straight years on the short end, Clemson (9-3) finally broke through and won the Palmetto Bowl by a 35-17 score on Saturday, bringing an end to a losing streak that kept many from realizing just how outstanding the program has been over the last several years.
New to the rivalry, quarterback Deshaun Watson (14-19 passing for 269 yards and four total touchdowns), running back Wayne Gallman (27 carries for 191 yards and one touchdown) and wide receiver Artavis Scott (seven catches for 185 yards and two touchdowns) helped deliver long-awaited relief to the Clemson program and its fanbase.
The contest marked the first time that Clemson had a 250-yard passer, 180-yard rusher and 180-yard receiver in the same game — and it happened with three freshmen. Scott also totaled the most receiving yards by a Tiger in Memorial Stadium history.
In addition to being a part of the record-breaking trio, Scott also owns the designation of racking up the most receiving yards by a Tiger against South Carolina. It was Scott's career-high total as well.
The Tigers boasted their most balanced offensive attack in weeks, thanks in large part to the offensive line, which helped Clemson rush for 225 yards and did not allow a sack.
In addition, Clemson coach Dabo Swinney revealed after the game that Watson had played with a torn ACL suffered in practice before the previous week's game against Georgia State.
"The gameplan was excellent today," Watson said. "We just took it one day at a time, and we went out and executed. Give a lot credit to our offensive line for running the ball and for our great pass protection today."
Swinney couldn't say enough about his team's discipline during the week and the Tigers' execution on both sides of the ball.
"It's a great way to finish the season," Swinney said. "We knew they were focused, and I'm so proud of them. It was obviously great to get this win."
On defense, the Tigers totaled 13 tackles for loss and five sacks. In his final home game, defensive end Vic Beasley finished with two sacks and a forced fumble. Clemson also bottled up South Carolina's running game, as the Gamecocks were held to 63 rushing yards.
"I can't say much more about these guys," defensive coordinator Brent Venables said. "They're incredible and the best group of guys I've been around. They deserved this. These guys have been on edge, and they were so hungry for this game today. They played with incredible passion."
The raucous crowd was put on edge early when the Gamecocks took a 7-0 lead in the first quarter on a touchdown run by Pharoh Cooper. But Scott answered with a 53-yard touchdown on a jet sweep from Watson, and the Tigers never looked back. They followed with rushing touchdowns by Gallman and Watson to take a 21-10 lead into halftime.
In the second half, Clemson's defense stalled a South Carolina drive that ended in a missed field goal, then Scott scored his second touchdown on the day with a 70-yard touchdown on another sweep from Watson to extend Clemson's lead to 28-10.
The Tiger defense recorded a goal-line stand in the third quarter and then denied the Gamecocks on another critical fourth down to end a potential scoring drive later in the game.
South Carolina made things interesting with a late touchdown to make it 28-17, but the Tigers delivered the final blow with a nine-play, 75-yard scoring drive that featured only running plays, including Watson's second rushing touchdown of the day.
The victory brought Clemson's all-time record against South Carolina to 66-42-4 in the Palmetto Bowl rivalry and extended Clemson's winning streak against unranked opponents to 27.
Swinney credited the fans for the support and atmosphere they provided against South Carolina.
"The fans were incredible today, and I hope they'll enjoy this one," he said.