Football Frenzy in this week's Pickens County Courier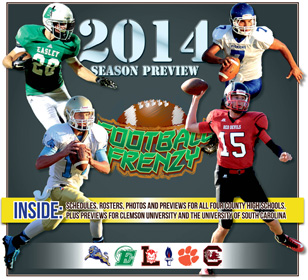 Are you ready for some football?
If you are then run out today and pick up this week's copy of the Pickens County Courier. On sale at most grocery and convenient stores in Pickens County.
Football Frenzy starts today!
Our award winning Football Frenzy offers  the best articles, best photography and best layout of any Pickens High School Football section in the area.
When the only local newspaper in Pickens County… that features a local staff, most of which attended either Pickens, Easley, Daniel or Liberty…. you get the best coverage of your favorite team.
Football Frenzy is put together right here in Pickens County by people you know, people you trust and will be a weekly section each week ONLY IN The Pickens County Courier.
Football Frenzy is not available online, because you have to hold it to get the full impact.
So run out and get the first issue for the 2014 season today or simply subscribe by call The Pickens County Courier at 864-878-6391. All major card accepted.
To advertise in the Football Frenzy call us at 864-878-6391. Special Package available… so your business can stay in the middle of the action!