Foothills Retirement Community breaks ground on new apartments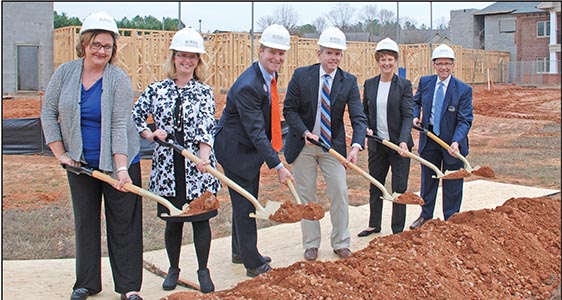 A groundbreaking was held recently at the Foothills Retirement Community. Pictured, from left, are director of sales and marketing Donna Owens, executive director Karen Nichols, PCSC foundation and church relations director Franklin Fant, Boyer Construction president Brian Boyer, PCSC president and CEO Kathy Ligon and PCSC COO Tony Fountain.
EASLEY — Officials from Presbyterian Communities of South Carolina, Boyer Construction and the Foothills Retirement Community held a groundbreaking ceremony recently to kick off the construction of an additional 12 apartment units in an existing building that was completed in November 2015.
Site work on the project began last fall, and the building is currently being framed.
The new wing will be called Great Oak Way and should be available for new residents in November.
"We are delighted to be working with Boyer Construction again," PCSC president and CEO Kathy Ligon said.
The construction company was involved in the other projects in 2015 and 2016 and is also building an apartment building for PCSC at The Village at Summerville.
Great Oak Way at Foothills will have one- and two-bedroom options ranging from 1,022 to 1,322 square feet, said Donna Owens, director of sales and marketing.
"These homes will offer a breadth of amenities, such as spacious, open kitchens, laundry rooms equipped with washers and dryers, and covered patios and decks," Owens said.
The additional apartments increase Foothills' active lifestyle accommodations to a total of 73 units.
"This is an exciting time for Foothills Retirement Community," Ligon said. "With the completion of 12 apartments in 2015 and a new 20-bed memory support center that opened in May 2016, we continue to see this campus grow and be able to serve more seniors. We are happy that PCSC is able to meet a growing need for senior housing in the Easley area while continuing to expand our mission and ministry."
Those interested in Great Oak Way can call Owens to be put on a waiting list. Depositors still have time to make custom selections if they make a commitment by the end of February.