Forecasts: Upstate could get several inches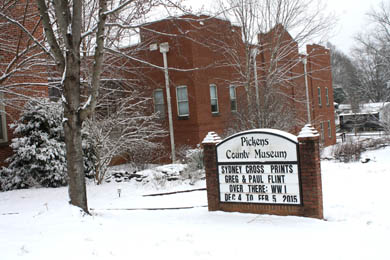 Rocky Nimmons/Courier
A fresh blanket of snow covers the ground outside the Pickens County Museum in Pickens on Tuesday morning. Although much of the county got more than an inch of snow, forecasters are predicting up to 8 inches on Wednesday night.
COUNTY — After the remnants of last week's ice storm finally melted away over the weekend, Pickens County residents woke up to a blanket of snow Tuesday morning, and much more of the white stuff could be on the way.
Schools in the county were closed Tuesday after the first of two winter storm systems expected to hit the region this week dropped more than an inch of snow in much of the county overnight. As of press time, district officials had announced no decision on closings or delays for the rest of the week.
Officials are calling for several more inches of snow to fall across the Upstate beginning on Wednesday evening.
According to forecasts, some parts of the Upstate, including most of Pickens County, could see accumulation of up to 8 inches.
A winter storm watch is in effect for the entire Upstate until 6 a.m. on Thursday, according to the National Weather Service.
Duke Energy and Blue Ridge Electric Co-op had not reported any outages in the area at press time Tuesday.