Former Easley football coach to lead alma mater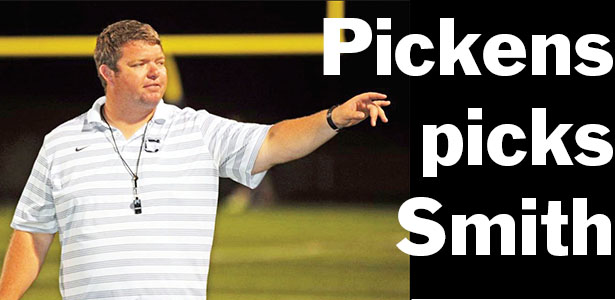 Courtesy photo
After leaving Easley High School in 2013 to go to Clover, Chad Smith is now set to return to Pickens County to coach his alma mater, Pickens High School.
PICKENS — Pickens High School will turn to a former Blue Flame lineman to lead its football program, as the school announced this week that Clover coach Chad Smith will be its new head coach.
"I couldn't be more excited to have Coach Smith coming to lead our football program," Pickens principal Corey Willimon said. "He has a track record of success that would make him welcome at any school, so his decision to come back and coach for his alma mater speaks volumes about his commitment to the Blue Flame family."
Smith has a history of turning around football programs and increasing student participation. He began his coaching career as an offensive line coach at West Montgomery High School in North Carolina, and he was part of a coaching staff that advanced to the second round of the playoffs after inheriting a team that had won just one game the previous year. In his second stint, as an assistant coach at Rocky Mount High School, he inherited a five-win team which went on to have a 43-11 record from 2003-2006, with three Eastern N.C. Championship appearances.
His first head coaching job was at Northern Nash High School, where he broke the team's 23-game losing streak in his third game and increased player participation from 32 players to 87 in two years.
In 2010, he returned to Pickens County, becoming the head coach at Easley High School, inheriting a team with a 1-10 record before leading the team to its best three-year record in team history with a 29-9 run. During his stay at Easley, he was also named the 2011 Class 4A Upper State Coach of the Year.
At Clover High School, he inherited an 0-11 team that has since qualified for the playoffs and obtained a winning record in 2016 for the first time in six years. He also increased player participation from 36 players in January 2013 to 127 currently. He was named the 2016 Tri-County 4A/5A Coach of the Year.
"Coach Smith has been effective at turning teams around because he's a leader of men," Willimon said. "He builds young people, and winning is just a byproduct of his talent as a sports educator. I can't wait to see the impact he will have on our students."
Smith holds an M.S.S. in sports administration from the United States Sports Academy and a B.S. in social studies education from Concord University. He graduated with honors from Pickens High School in 1997. As a student he was a three-year varsity starter in football and track, and he was also named the 1997 Fellowship of Christian Athletes Man of the Year at PHS.