Former Pickens officer charged with sex assault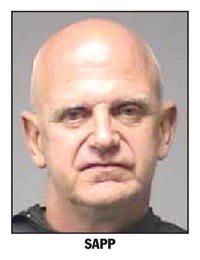 PICKENS — A former Pickens police officer faces multiple charges after S.C. Law Enforcement Division agents allege he sexually assaulted a woman while on duty.
Robert Lee Sapp, 56, of 105 Beverly Court in Liberty, was charged with one count of first-degree assault and battery and one count of misconduct in office, according to a SLED news release.
Sapp was arrested last Wednesday to wrap up an investigation conducted by SLED agents at the request of the Pickens Police Department.
According to arrest warrants, officers believe Sapp touched a woman's breast and other body parts on June 19. The woman allegedly told police Sapp began to kiss her and rub his body against hers before exposing and kissing her breast. The warrant claims Sapp was "on duty in his official capacity as a sworn Pickens City Police officer" during the alleged assault.
If convicted, Sapp faces up to 10 years in prison on each charge, according to SLED. The case will be prosecuted by the 13th Circuit Solicitor's Office.
Sapp was released from the Pickens County Detention Center on a $10,000 surety bond.