Friend, father of Howard's Rock vandal plead guilty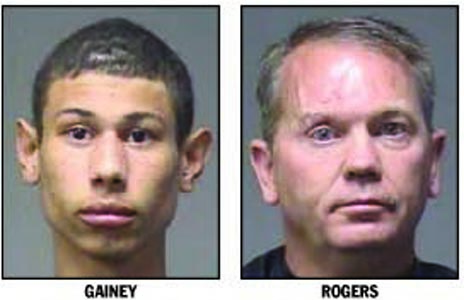 By Eric Sprott
Courtesy The Journal
esprott@upstatetoday.com
CLEMSON — In a news release Monday, 13th Circuit Solicitor Walt Wilkins said two men pleaded guilty to misdemeanor charges of giving false information to police in relation to the vandalism of Howard's Rock more than three years ago.
In pleading guilty, Michael J. Rogers, 49, and Alden J. Gainey, 20, admitted they attempted to cover up Micah Rogers' vandalism of the storied piece of Clemson University history in June of 2013. Micah, Michael's son, was convicted at trial last summer of malicious injury to property for vandalizing the rock and was allowed to serve 25 days of community service to avoid 30 days in jail and a $1,000 fine.
According to the news release, evidence presented at the plea hearing by assistant solicitor Baker Cleveland established that on June 20, 2013, Michael had a meeting at his home in North Carolina with his son, Alden Gainey and Xavia Wynn to discuss surveillance video of Micah's truck and the three boys in the vicinity of Howard's Rock at Memorial Stadium the night the vandalism took place.
According to Wynn, Michael urged the boys to "stick to the story" that they did not damage the rock, and that they were just there to take pictures.
On June 24, 2013, all four traveled to Pickens to meet with law enforcement. Gainey, who was present the night Micah damaged the rock, gave the fabricated version of events to police, but Wynn came clean, informing officers Micah had indeed damaged the rock.
Subsequent investigation revealed Michael's role in fabricating the story. The large piece that Micah chipped off the rock — which Clemson football players have rubbed upon entering the stadium since 1967 — after breaking its protective case has still not been recovered.
According to the Associated Press, court records show Michael J. Rogers and Gainey can choose to pay $200 fines or spend 30 days in jail.