From the Mill Hill to Calvary's Hill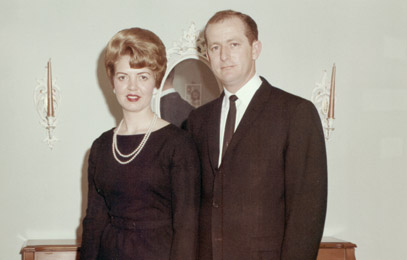 Jack Hester and his wife Shirley pose for a snapshot in 1961.
Dr. Jack Hester shares story of longtime ministry in new book
By Ben Robinson, For the Courier Courier
Dr. Jack Hester looks over his notes for his next sermon. If you are familiar with Hester, as many in the Upstate are, you may be surprised that he is still active.
Hester, who is 83 years young, is the interim pastor at Mountain Grove Baptist Church in Pickens, and — as of right now — has no plans as to when to take another step into his retirement.
"I feel better today than I did when I was 50 years old," Hester said.
"So what should I be doing but raising the Lord and sharing His story with as many people as possible? When I signed in for this job, there was no place to sign out."
Hester has been preaching the gospel for more than 62 years.
"My wife Shirley has been blessed with a beautiful voice, and I have blessed to have her sing at many of the churches who asked me to come preach," Hester said. "Sometimes I think people are really wanting to hear Shirley sing and are just willing to put up with my preaching so they can get her. But we make a good team."
Hester has just completed an autobiographical book entitled, "My Story for His Glory." The book is subtitled, "From Baseball to the Bible; From Mill Hill to Calvary's Hill."
Hester's story goes back to when he was an infant and Hester reveals what God did in the life of a young man who had made a life in baseball, his lifelong dream. Yet knowing God's call was upon him, he continued to rebel until the time he made a total surrender to God's call, turning from baseball to the Bible… from the Mill Hill to Calvary's Hill. He shares a moving illustration of his life.
Hester became an avid baseball player in his youth, earning looks from professional teams.
"I turned down a large contract from professional baseball and concentrated on what I felt was a stronger calling to share the word of God," Hester said. "Since then I have plowed, planted and reaped both nationally and internationally through the gospel of the Lord Jesus Christ."
He has recorded more than 30,000 conversions in his career.
Hester began his ministry at Grace Baptist Church in Simpsonville. While there, he began a radio ministry, "The Gospel Dynamite Hour," which continued for more than 25 years.
Eventually, he was called to Powdersville First Baptist Church. He "retired" from there in 2002. He was then asked to be the interim pastor at Nine Forks Baptist Church in Dacusville, and he fell so in love with the people there that he eventually accepted the position as full-time pastor.
He retired from Nine Forks a couple of years ago, but has stayed busy preaching revivals, guest speaking at various local churches, and serving as interim pastor where needed. He avoids using the "retirement" word because he does not know how long God will choose to use him.
Although Hester has spoken at some of the largest churches in America, he still makes time for smaller churches too.
"If you have been called by God to preach His word, there is no such thing as a 'small church,'" Hester said.
For more information or to buy Hester's book, call Mountain Grove Baptist Church at (864) 878-6399.