Fun on the farm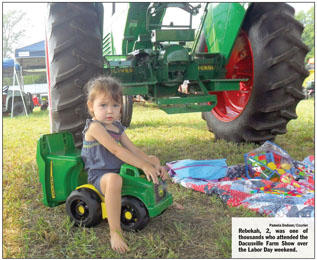 Dacusville hosts annual Farm Show festival
By Pamela Dodson
Staff Reporter
pdodson@thepccourier.com
DACUSVILLE — The sounds of one-cylinder engines and children laughing and the smell of diesel fuel permeated the air over the weekend at the Dacusville Farm Show.
The event, which had been a Pickens County tradition for years, was resurrected three years ago by those who love old tractors and a slower pace of life. Pickens County was built on such values, and it showed as thousands came to enjoy Labor Day weekend at the show.
The third annual Dacusville Farm Show was held Saturday and Sunday at Tom Turner's 55-acre farm off Earls Bridge Road.
The event brought out the young and old to experience a piece of Americana that just can't be found elsewhere in the Upstate.
Last year's event brought more than 3,000 people to the Dacusville area, and this year's festival lived up to its predecessor, as thousands flocked in to see the antique tractors and enjoy a little down-home entertainment in the foothills of the Blue Ridge Mountains.
Tractors ranging from John Deere to International Harvester were parked in neatly arranged rows, with their owners and spectators engaged in conversation about things ranging from gardening to cutting hay.
On one side sat the huge diesels, including an old Mack truck that would catch anyone's eye. Restored trucks and classic cars were also on site.
A multitude of vendors displayed items hoping to catch the eye of some of the many in attendance as they made their way through the maze of antique metal.
Nothing, however, compared to the smell of freshly smoked barbecue and the aroma of funnel cakes filling the air, making mouths water.
The event also featured plenty of great live music, with voices echoing throughout the event.
Pickens County hosts a variety of festival events each year, but for those raised on a farm in the South, none can compare to the sheer spectacle and warmth of the Dacusville Farm Show. The show is one that takes visitors back in time to a simpler and calmer way of life.