Gettys receives top SC civilian honor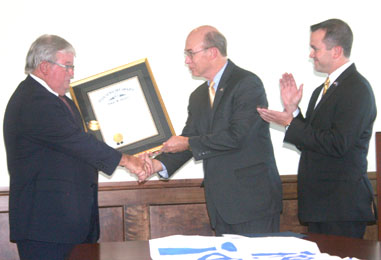 Ben Robinson/Courier
Former Baptist Easley CEO Roddey Gettys receives the Order of the Palmetto from Sen. Larry Martin and Rep. Neal Collins on Monday at the hospital.
By Ben Robinson
Staff Reporter
brobinson@thepccourier.com
EASLEY — Monday afternoon in the business offices of Baptist Easley, former hospital CEO Roddey E. Gettys III received South Carolina's highest honor, the Order of The Palmetto, for his longtime leadership.
The award was presented by South Carolina Senator Larry Martin on behalf of Gov. Nikki Haley.
The order of the Palmetto recognizes a person's lifetime achievements and contributions to the State of South Carolina.
Gettys held a number of leadership positions at Baptist Easley between 1969 and 2013, ultimately becoming CEO.
"Your 43 years of service to Baptist Easley demonstrates your dedication to the well-being of South Carolinians, and it will have a lasting impact on our state for years to come," Haley said of Gettys. "Your leadership in a critical area of our society has made a positive difference in so many lives."
"This is a very special occasion for many many reasons," Martin said. "First of all, the governor doesn't give too many of these awards. It's just a real honor to be a part of it, not only on behalf of the governor, but on behalf of the State of South Carolina. It recognizes the epitomes of leadership and contributions to one's community and state. And Roddey has certainly demonstrated this through his long and illustrious career as the CEO here at Palmetto Health."
Martin was impressed with the turnout in honor of Gettys, including some of the youngest members of Gettys' family.
"It's a real pleasure to see several of his grandchildren here for this special recognition," Martin said.
Martin presented the award, aided by state representative Neal Collins, calling it the top recognition in the state of South Carolina.
"Your service and accolades you have earned in your 43 years of service to healthcare — to a world of making a difference, you have been an incredibly effective leader," Martin said. "Your contributions will have a lasting impact on our state for years to come."
Gettys joked about the governor presenting him the award.
"I told her I was going to vote for her this time," Gettys said.
Gettys shared credit for his award with his former staff.
"In my career I've worked with some great people — people that I learned to trust, and they learned to trust me," Gettys said. "We worked together to make Baptist Easley what it is today.
"I get the accolades. But the team that worked behind me, those are the real winners, the real heroes. I'm out front — I get the awards — but the folks in the trenches did the work.
"We led nationally that effort," Gettys said. "But it certainly was not just me."
He praised late Easley businessman Garnet Barnes.
"Garnet Barnes was one of my mentors, maybe my primary mentor," Gettys said. "If ever I had an issue that I truly needed fatherly advice on, I would talk to Garnet about it. And he'd say, 'Let me think about it. Let's talk again in a few days.' That's the kind of guy Garnet was. He wanted to think about it before he answered. I'm trying to do that, but the bottom line is I need to stop and think before I answer. But I'm blessed."
"It's an honor to win this award," Gettys said. "And I'm just tickled to death that I can accept this on behalf of this great team that makes us a great hospital."
"I say thank you to Roddey," said Michael Batchelor, who replaced Gettys as CEO of Baptist Easley. "He will receive Christmas cards and New Year's greetings from my house for many years to come. He's a hard act to follow."
Under Gettys' leadership, Baptist Easley become one of the nation's highest-ranking hospitals for quality care. In 2012, it became the only hospital to be named a Leapfrog Top Hospital, a prestigious national ranking of the nation's top rural health care facilities. It is also the only three-time winner of the prestigious Press Ganey Partner of Choice Award, given to hospitals that rank in the nation's top 10 percent in patient satisfaction, physician satisfaction, and staff satisfaction within the same year, In 2006, Baptist Easley was one of four hospitals in America to receive the prestigious Premier Orthopedic Award for Hip and Knee Replacement, and it's the only hospital to receive the acclaimed "Fire Starter" award three times from The Studer Group. A national healthcare service consulting firm.
In 2008, Baptist Easley received the South Carolina Governor's Silver Award for developing, implementing and deploying a quality management system based on the national Malcolm Baldrige Quality Award criteria.
The following year, Baptist Easley received the Gold Achiever Award.
Gettys began his career at Baptist Easley Hospital (at the time Baptist Medical Center) in 1969 as director of the pharmacy, central supply and purchasing departments. He was promoted to vice president in 1977, executive vice president and chief operating office in 1988, and CEO in 2009. He attended Erskine College, has a bachelor's degree in Pharmacy from the Medical University of South Carolina, and a certificate of health care administration from Duke University.
Gettys was inducted into the Healthcare Hall of Fame and in 2013 was recognized with a formal resolution from the South Carolina General Assembly.