Giving her time and talent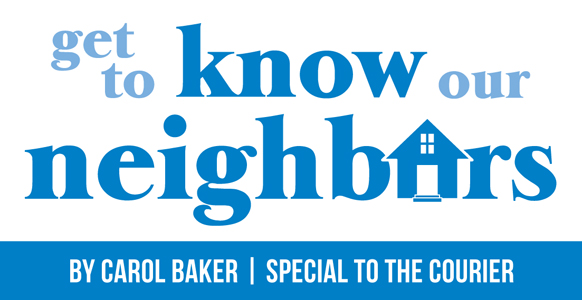 Debbie Galloway is thankful to be able to give her time and use her talent to cook and manage the kitchen at the Pickens Senior Center. Although she does not receive a salary, she says she enjoys working there. She has served on the board of directors at the center for five years.
Galloway was born in Rosman, N.C., on July 23, 1950. In 1968, she married Boyd Galloway, who also lived in Rosman, and they moved to Pickens.
Boyd was already employed at the Singer plant, and Debbie started working there in 1970. She worked there for 30 years and six months. Her first job there was working in die casting, and she later worked in computer plastic molding. Before she retired in 2000, she worked in CNC — dealing with automotive machinery.
Debbie's husband died in 2006. They have one son and one grandchild.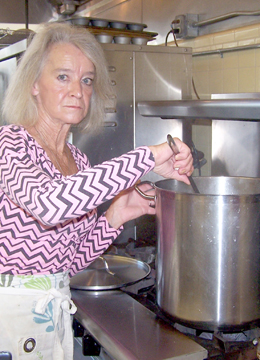 Debbie said she was raised on a farm, and her parents grew most of their food. She learned to cook at an early age by helping her mother in the kitchen.
After leaving her job at Singer, she went to work as the head cook at Ingles in Pickens. She worked there for 13 and a half years. She prepared food for the breakfast, lunch and dinner bar. She also prepared food for catering.
Carol Baker/Courier Debbie Galloway volunteers cooking meals at the Pickens Senior Center five days a week.
In 2009, she started working part-time at Ingles. She began doing volunteer work in the kitchen at the Pickens Senior Center. A year later, she quit working at Ingles and started volunteering every day at the center. She is now in charge of preparing the food that is served there at 11:30 a.m. every Monday through Friday. She never uses a cookbook. She also cooks for the people who come to the center on Tuesday nights to listen to the Pickens Senior Band, which plays from 6-8 p.m.
Debbie is responsible for planning all the menus and purchasing the food. She also cooks for catering. She buys most of the food she uses from Sam's and the Bargain Food Store in Pelzer.
The cost of a meal at the center is $3 for members and $5 for non-members. It includes a meat, three vegetables, a dessert and a drink. The seniors enjoy their delicious meals.
Debbie has several volunteers who help with the cooking, serving the food, washing the dishes and cleaning off the tables each day and on Tuesday nights.
Enough food is cooked at the center every day to serve 40 or 50 people. There are seldom any leftovers, but if so, they are not wasted. They are given to any senior who wants to take them home. All the profit from the sale of food is used to help pay the power bill and other expenses at the center.
When Debbie isn't busy planning meals, ordering food or cooking, she enjoys spending time with her grandchild and reading mystery novels.
Easley resident Carol Baker highlights interesting local residents and helps us get to know more about the fascinating people who call Pickens County home. If you have someone somewhere who you think people should know about, contact us at news@thepccourier.com.