Golden Hurricanes blow past Pickens
By Eugene Jolley
Courier Sports
ejolley@thepccourier.com
PICKENS — Wren was trying to keep rolling in Region I-4A play Friday night. Pickens was just trying to get going after not scoring a touchdown in 10 quarters.
Both happened, sort of, on a night where the moon was nearly full. Wren took advantage of four lost fumbles by the Blue Flame to improve to 3-0 in region play with a 54-13 win.
Pickens (1-7, 0-3) did finally snap its touchdown drought, scoring on a 22-yard Brandon Batson run with 9:22 left in the game.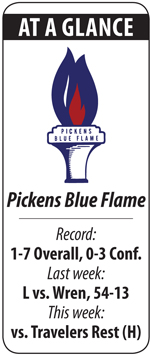 The Blue Flame put in a three-back offensive attack similar to Georgia Tech's last week to take advantage of personnel. It worked early, as the Blue Flame drove, following a Wren fumble, to the Wren 9. Cole Seaborn recovered the first fumble, but his fumble was scooped up by teammate Colin Hinkle at the Wren 33. The drive stalled at the 10, and Dylan Banyard kicked a 27-yard field goal with 5:45 left in the first quarter, making it 3-0.
"We tried to figure out a way we could get the ball in some of our guys' hands," Pickens coach Chad Seaborn said. "And try to play to our players' strengths and try to eat more clock, especially against a team like Wren. The more snaps they get, the more dangerous they are. The offensive staff sat down and put this in."
Wren answered, getting a key fourth-down conversion pass — a bothersome theme for Pickens in the game. Quarterback Jay Urich hit Jeremiah Neubia on a 10-yard slant pass for a score with 2:34 left in the opening quarter, making it 7-3.
On the ensuing kickoff, Jamal Blythe was stripped by Carson Galloway, who returned it 21 yards for the score, making it 13-3 with 2:25 left in the quarter.

Pickens answered with a long 11-play, 60-yard drive. Kyle Day ran for 19, but a third-down pass fell incomplete at the 5-yard line and Banyard hit a 22-yard field goal with 8:52 left in the half, making it 13-6.
Wren got a big kick return, but the Blue Flame defense came up big when Urich's screen pass was intercepted by nose tackle Hunter Galloway.
Unfortunately, Pickens turned it over two more times in the half. A punt hit a Blue Flame blocker, and Wren capitalized with a score. The offense couldn't convert and unfortunately, Wren got rolling. Taking advantage of a roughing the passer penalty, Wren scored as Urich ran in from three yards out with 1:56 left in the half, making it 20-6.
Again, the last minute of the half was unkind to Pickens. Kirkland Gillespie somehow got a bad pitch on a loss of 17 yards that forced a punt. Then, facing fourth and 10, Urich found Trey Gray on a wheel route for a 25-yard touchdown with 13 seconds left in the half.
Pickens got the ball to start the second half, but on the second play of the half, Batson fumbled. Urich made the Blue Flame pay, as on fourth and 11 at the 25-yard line, he found Neubia, who made a one-handed catch over a defender for the score with 10:14 left in the third quarter.
"Turnovers kill us at the most inopportune time," Seaborn said. "We get some penalties on defense on third and long and fourth and long. Things like that, we just are not good enough to overcome right now. Hopefully, we'll get there. We can't give good teams the ball like we did tonight."
Tommy McGaha/ seeyourphotohere.com
Pickens' Robert Jones is forced out of bounds by a Wren defender during their game Friday.
Unfortunately, there were two more Pickens fumbles in the half — one coming on a punt that hit a Pickens blocker. Wren capitalized with another touchdown as Gray broke several tackles en route to the score with 1:16 left in the quarter.
Pickens got a Wren fumble later as Luke Bryant fumbled a punt and Cole Seaborn recovered at the 11. Following a sack of Jared Pace, Batson took a pitch left and cut back en route to the 22-yard score with 9:39 left, making it 41-13.
Pickens fumbled once again, and Wren capitalized as backup quarterback Tyrell Jackson was trapped in the backfield but got away down the left sideline for a 26-yard score with 3:43 left.
Backup tailback Daniel Tafler ran over one defender on his way to a 46-yard score with 24.8 seconds left, making the final 54-13.
Tommy McGaha/seeyourphotohere.com
Pickens' Sam Lawson tries to make a leaping catch in the end zone in front of a Wren defender during their game Friday night.
Wren will play Belton-Honea Path this week with the region title on the line. Pickens will host Travelers Rest for homecoming in a nonconference matchup on Friday night before playing host to Daniel in the season finale next week with a playoff berth on the line.
"Hopefully we can get a good week of practice and bounce back," Seaborn said. "I promised them that I would give them everything that I have as long as the season lasts and hope they will in return. Hopefully we'll have a good crowd and win a game hopefully, but at least play better. Hopefully, we can correct some mistakes and be a little bit better on offense next week."
Tommy McGaha/seeyourphotohere.com
Gary Monroe, center, was honored with the Gene and Nora Hooper Fan Appreciation Award at halftime of Pickens' game against Wren on Friday night.
Notes:
Pamela Chastain Clarkson, class of 1998, was inducted into the Pickens High School Athletic Hall of Fame at halftime. She was a standout volleyball and softball player.
Gary Monroe was awarded the Gene and Nora Hooper Fan Appreciation Award.