Grace Christian Fellowship offers Growth in the kingdom of God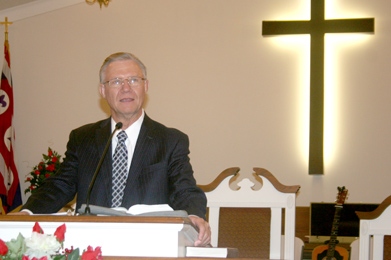 Although it is now known as Grace Christian Fellowship and has moved to 377 Deer Creek Road in Dacusville, the former Dacusville Church of God of Prophecy has the same group of believers and goal as it always has — "growth in the kingdom of God," according to pastor Jeff Hunt, pictured at above.
New name, new location, same church
By Ben Robinson, Courier Staff
After many years of serving the Dacusville community from a small building on Hunts Bridge Road, the group of believers once known as the Dacusville Church of God of Prophecy has a fresh start in the community.
The church has a new name, though it never forsakes the old name.
Officially the name is Grace Christian Fellowship dba Dacusville Church of God if Prophecy. The
new name comes from when the church membership moved into the building formerly used by Grace Presbyterian at 377 Deer Creek Road four years ago.
The building was originally used by a group from Jones Hill Church of God, which eventually outgrew the location and moved into the facilities now known as LIFEchurch on Thomas Mill Road. The Presbyterians tried, but were unable to establish the Dacusville location and gave up the location on Deer Creek Road.
Dacusville Church of God of Prophecy happened to be looking for a new location at the time. Started in 1951, the church had vigorously served the Dacusville community from its small facility on Hunts Bridge Road. Pastor Jeff Hunt, who had already served as the church's pastor for four years, led the church as it moved into its new facility.
Hunt has served as a pastor for the church since before it moved four years ago. Later, the former Church of God of Prophecy building was rented to Hunt's friend Cleve Holloway, who started New Works Christian Fellowship at the Hunts Bridge Road location.
Hunt has been in the ministry for 40 years. He started his ministry by serving as a pastor for nine years.
"But the lord got a hold of us to go onto the mission fields," Hunt said.
He and his wife went to western Canada to serve as evangelists for four years, "then we were asked to pastor a church in Winnipeg, Manitoba," Hunt said.
The Hunts were only supposed to be interim ministers there, but ended up staying for eight years.
"We stayed in Canada for a total of 12 years," Hunt remembers. "Then we came back to South Carolina and began pastoring again."
After leaving for Canada in 1984, the Hunts were happy to return to South Carolina in the mid-1990s.
"I was born in Greenville County in the old Greenville Memorial Hospital," Hunt said. "My wife is a native of Belton-Honea Path."
Moving has not affected church attendance, despite one member who lived just three houses from the Hunts Bridge Road location. She still comes to the Deer Creek Road location. Two other members lived on Raines Road, just down from the old church location.
But the church continues to attract people from the Upstate area, including Easley, Travelers Rest and other small towns in the Upstate.
Hunt lives in Greenville in a home he and his wife purchased four years ago. Previously he had depended on whatever church he served to supply a church parsonage, but the older he got, the better the idea of owning a home seemed.
Hunt is healthy now, but he once suffered a heart attack while on the church pulpit bringing the week's sermon.
EMS was called in to take him to the hospital, where on Monday a muscular stress test was performed, and then on Tuesday a heart cauterization was performed. On Wednesday, a six-bypass open heart surgery was performed.
"But God was good," Hunt said. "I was back in the pulpit four weeks later."
In all, Hunt considers the heart problems somewhat of a blessing.
"I feel better now than I did 25 years ago," he said.
After the church moved, there was a conversation about what the church would be known as. Hunt liked the word Grace being part of the title, and eventually members agreed with him.
"But we are legally The Church of God of Prophecy doing business as Grace Christian Fellowship," Hunt said. "When we go into the community, we do not hesitate to tell people that we are a congregation of the Church of God of Prophecy. We don't try to hide that."
The Church of God and The Church of God of Prophecy have been separate denominations for many years.
The two used to be one denomination, "but a division took place in 1923," Hunt said. "Out of that came two denominations — one became the Church of God of Prophecy in 1952."
The two groups continue to work closely together, Hunt said.
While Hunt would love to see his church grow, he gets more excited when the church can send someone into the mission field. Recently, longtime member Houston Hunt, no kin to the Dacusville minister, trained for the ministry. He now pastors the Highlands Church of God of Prophecy.
Another member is currently being trained for a chaplain ministry, offering love and support but not focusing on preaching.
"I would love to see the building packed, but I would even more love to see more people come in and we could send them out to serve somewhere else," Hunt said. " I see growth in the kingdom of God as being a lot more important than just growth in one church."