Hagood-Mauldin house joins Upstate Heritage Quilt Trail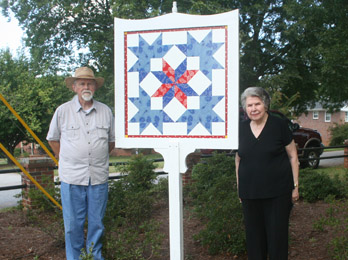 Pickens County Historical Society president Kenneth Nabors and Una Welborn stand beside the quilt block on display at the Hagood-Mauldin House in Pickens.
PICKENS — The Carpenter's Wheel quilt block has been placed on the grounds of the historic Hagood-Mauldin house to become part of the Upstate Heritage Quilt Trail.
The block was selected by Una Welborn since it is an 1850s pattern and the house was originally built in 1850 on the banks of the Keowee River at Pickens Court House.
In 1868, the upper corner of South Carolina was divided into Oconee and Pickens counties with the Keowee River becoming the county line.
At that time, James Earl Hagood, who lived in the house, had the house completely disassembled, loaded onto wagons and hauled 14 miles to its present location at 104 Lewis Street in Pickens.
"This involved much carpentry, and that is why I thought the Carpenter's Wheel would be appropriate," Welborn said. "Most of all, Jesus the Master Carpenter guides our lives."
The frame for the quilt square was designed and built by Kenneth Nabors, president of the Pickens County Historical Society. Nabors' design includes sharp points that compliment the sharp points that are in the quilt pattern. The finial was carved by Nabors from a section of a century-old white oak tree that grew beside the Old Presbyterian Church near Lake Keowee.
To learn more about the Upstate Heritage Quilt Trail, visit www.uhqt.org.