Happy environment, happy farm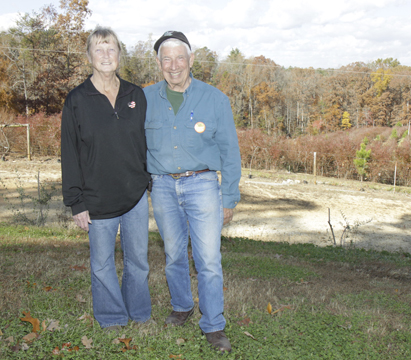 Courtesy Caitlin Herrington/The Journal
Pictured with his wife, Ann, Happy Berry farm owner Walker Miller was honored recently as the Carolina Farm Stewardship Association's Farmer of the Year.
The Happy Berry wins sustainable farming award
By Caitlin Herrington
Courtesy The Journal
cherrington@upstatetoday.com
SIX MILE — hose who have been to The Happy Berry in the height of summer to pick blueberries or blackberries know it's easy to work up a sweat on the 20-acre farm.
But what many don't know is that spot is, on average, nine degrees warmer than a half-mile down the road — and that's just the way owner Walker Miller planned it.
Miller and his wife, Ann, have spent the last 35 years working to get their farm to produce crops year-round while interfering with the environment as little as possible. Choosing a plot of land less likely to freeze was just the first of many selective decisions, and their efforts were recognized recently at the annual Carolina Farm Stewardship Association meeting when the group named Walker as Farmer of the Year.
"There were about 800 people there," Walker said. "I was sitting in the audience and the executive director started talking and I thought, 'Wait a minute. That kind of sounds like our farm.' I was flabbergasted."
Walker said the award came as a complete surprise — otherwise the whole family would have made an effort to attend.
CFSA, which consists of farmers in North Carolina and South Carolina, is a member-based organization. The Millers never put in an application for the award — fellow sustainable agriculture enthusiasts nominated them.
"They are advocates of education for both farmers and consumers," CFSA communications and development director Elizabeth Read said. "They have done a great job in terms of bringing their message across of how they're being sustainable."
Part of getting that message across means participating in area farmers markets, but Ann doesn't limit education to those who purchase Happy Berry produce.
"We do home and garden shows, and we try to do a lot of talks at garden clubs," she said.
Read noted Happy Berry has been part of many farm tours for other CFSA members, but the Millers haven't stopped there with their education efforts.
"Connecting the farmer with the consumer is a challenging job," Read said. "They're doing an excellent job of bringing their story across the Carolinas."
So what exactly is their message?
"Everybody is concerned about global warming," Walker said. "How we farm makes a difference. If we farm right, we can fix more carbon than we put back into the air. We're talking about the future of humanity here."
Using nature as a model for growing, the Millers have different crops throughout the year and have several experiments underway in order to find what works best and share it with other farmers.
Recently, there was a shade cloth covering rows of heat-sensitive blackberries, which Walker said showed potential to be planted in a greenhouse so they'll grow until Christmas.
"The shade cloth was an experiment to see if we can keep them cool long enough that they can go into fall as a fall crop," Ann said. Flowers were still blooming on the bushes well into November.
Their attention has recently been turned to pussy willows, which Ann said are very popular with florists during the fall.
"We have a natural underground spring here, and willows grow well in water," she said. "We started them as soil erosion control, and then we got into the catkin and pussy willows where we sell to nurseries and florists."
As the Millers work to adapt to nature while using it as the model for sustainability of the farm, they admit they may need to start scaling back.
"We don't want to grow a lot bigger," Ann said. "We need to downsize, because when we're gone, our daughters have to take care of things."
Though daughters Betty-Ann and Zoe will one day run the show, Walker plans see to it that the berries grown at Happy Berry are the happiest they can be.
"I have no aspiration of retirement," Walker said. "I wanna die with my boots on."