High-octane Raiders blow through Daniel
By Bru Nimmons
Staff Reporter
bnimmons@thepccourier.com
GREENVILLE — The Daniel Lions faced an arduous task heading into Sirrine Stadium to face the Greenville Red Raiders on Friday night.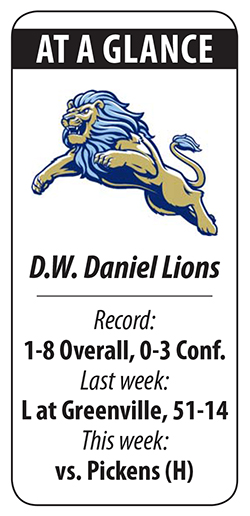 The 7-1 Raiders were looking to take advantage of a down year for the Lions and continue their dominance in region play. Daniel started strong but faded down the
stretch as the Red Raiders' lauded offense exploded for a 51-14 victory.
"We didn't execute after the first quarter," Daniel coach Jeff Fruster said after the loss. "My hat's off to Greenville's defense tonight. They did a heck of a job stifling everything we wanted to do on offense.
"We have to do a better job of finding weakness. We have to be more consistent on offense and not give up on the running game."
The Lions defense also struggled, giving up big plays throughout the night after being the
You must be logged in to view this content.
Subscribe Today or Login