Honoring a local legend
Easley to dedicate stadium for former coach, mayor
EASLEY — Excitement is in the air across Pickens County, as the high school football season will kick off this Friday night with Easley traveling to Pickens and Daniel hosting Liberty.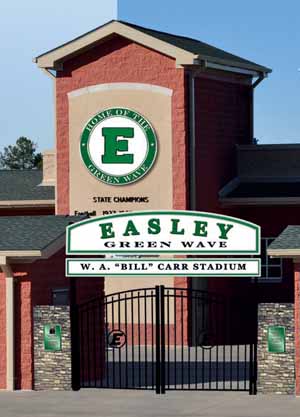 But the emotion may be even higher next week at Easley High School, as the school will show its respect for a local legend, dedicating the school's football stadium in honor of William A. "Bill" Carr before the Green Wave's home opener against county rival Daniel.
Carr, who served as Easley's head coach from 1957 to 1967 and was later elected mayor of the city, died at age 86 in 2012.
School District of Pickens County officials approved a proposal from Easley principal Gary Culler in January to name the school's football stadium after the legendary coach, teacher, businessman and civic leader.
"(Carr) was a man that led and inspired students and young adults to apply themselves and excel beyond their dreams," a fundraising brochure for the new stadium signage said. "He brought the city of Easley together as few people have and made our community into a household name that was
You must be logged in to view this content.
Subscribe Today or Login