Hot licks competition added to Founders Day Music Festival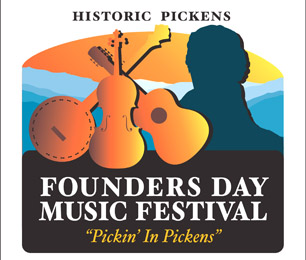 PICKENS — This year's Founders Day Music Festival, set for Sept. 14 in Pickens, will add a hot licks competition to the schedule.
And seven bands, headlined by such award-winning groups as Volume 5, Deja Bluegrass and Most Wanted Bluegrass will entertain. There will also be another big jam featuring "Will the Circle Be Unbroken."
"Both the hot licks competition and the big jam, which brought tremendous response last year, will be open to anyone who wants to participate," said Daniel Brazinski, music events chairman. "We also encourage any bluegrass, old-time, country or folk musician to join others in jams throughout the day and evening. We're even going to have free 'mini' lessons, from YAMS instructors, for those that think they might want to learn an instrument."
The hot licks competition will be open to musicians playing any traditional bluegrass or old-time instrument. An accomplished musician will lead the contest, playing and singing traditional tunes and calling on the contestants, one at a time, to play a break. Selected by a panel of judges, the finalists will perform on stage. The winner will come from that group.
Other well-known bands scheduled to perform include Pine Top Revival, the Sweet Potato Pie Kids, The Traveling McCollums and the Blue Flame Bluegrass Band. The event will center around the new Pickens outdoor amphitheater, on West Main. The free event, celebrating Pickens' music and cultural heritage, will begin at noon and end around 8 p.m.
Founders Day will feature much more than music. Living history reenactments will be staged with musket, long rifle, and cannon firing demonstrations. A large number of specially selected vintage vehicles, including as trucks, tractors and cars, will again be on display. The Hagood-Mauldin House and the Pickens County Museum, where Pickens' history can really be seen, will be open for tours. This year, many more vendors will offer traditional items, original arts and crafts, and food and beverage such as homemade ice cream. Experts in "lost crafts" will provide demonstrations on blacksmithing, quilting, musical instrument construction, gunsmithing, and more. Special activities, such as face-painting and storytelling, will entertain the kids. An Andrew Pickens impersonator will again be there throughout the day to tell of his life and have photos taken with him. He will also share his 274th birthday cake with everyone.