Indecent exposure suspect arrested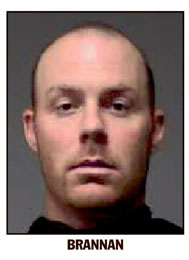 CLEMSON — Clemson police arrested a suspect in a series of flashings last week.
Scott Huestis Brannan, 30, of 3498 Six Mile Highway in Central, is charged with second-degree burglary and indecent exposure, as well as driving under suspension.
According to Clemson police chief Jimmy Dixon, officers received a report on May 20 of a man walking into a Clemson residence and exposing himself to someone inside before fleeing in a gray Toyota Corolla.
On the same day, similar incidents were reported at Pendleton High School and at a home in Central, Dixon said.
As a result, the Anderson County Sheriff's Office, Central police and Clemson police launched a joint investigation.
On May 26, Clemson police stopped a person of interest who was driving a gray Toyota Corolla. The driver — identified as Brannan — was discovered to be driving under suspension and was arrested, Dixon said.
Dixon said the clothing identified as being worn during the indecent exposure incident in Clemson was discovered in Brannan's car, leading to him being charged with the other offenses.
Dixon said the other agencies involved in the investigation were notified of Brannan's arrest.
Brannan was being held Tuesday at the Pickens County Detention Center on a total $13,652 surety bond.