It's just a truck?
Saturday is a day I like to think of as a free day. Occasionally a plan will evolve to do something fun on Saturday, as opposed to work in the yard, in the house or on the computer. This Saturday was wide open for recreational opportunities, so I was ripe for some fun.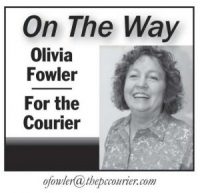 At first, I thought it would be fun to go see Wonder Woman. But after striking out on getting someone to go with me, I switched to another plan. I decided to go kayaking on Jocassee with friends.
First, I'd have to see if I could get the farm truck. It's large enough to carry three kayaks. Fowler said he didn't need it, as he planned to plow Saturday, so he filled it up and helped me load my kayak and paddle.
The plan was to meet at the friend's house, then go to Panera Bread for lunch with a
You must be logged in to view this content.
Subscribe Today or Login