Ivy rain barrels on sale now through April 12
PICKENS — Anderson and Pickens Counties Stormwater Partners (APCSP) is offering Ivy rain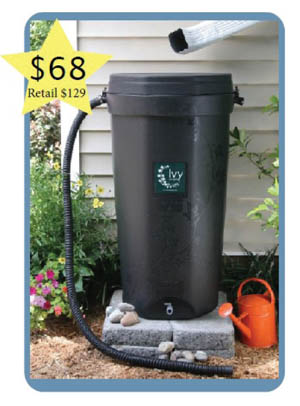 barrels through a special program to encourage residents to conserve precious water resources as well as to protect water quality.
The normal retail is $129, but through the special promotion, they are only $68.
Rain barrels must be pre-purchased online by April 12 at rainbarrelprogram.org/apcsp.
Pick-up is scheduled for Thursday, April 16, from 2-6 pm at the South Carolina Water Resources Center, 509 Westinghouse Road in Pendleton.
The rain barrel captures rainwater from rooftops by connecting to a home's downspout. This water would typically be sent down the stormdrain and into nearby creeks carrying potential contaminants and contributing to flash flooding. The cumulative effect of rain barrels implemented throughout a geographic area can have a significant impact on stormwater management and water quality. Water collected by the rain barrels can be used for gardens, lawns, and washing cars and pets.
"APCSP is committed to protecting our water quality and managing the damaging effects of stormwater runoff. The use of rain barrels will provide residents one of the tools they need to conserve water, prevent water pollution and reduce sedimentation in our lakes, rivers and streams," said Steven O'Shields, a water resources agent with Clemson Extension.
For more information on the APCSP Rain Barrel Program or to order a rain barrel, visit: rainbarrelprogram.org/apcsp.
Made in the USA, Ivy rain barrels have a 50-gallon capacity. They are 42.5 inches tall with a 22.5-inch diameter. A bug-proof screen keeps out mosquitoes and other pests, and a 3/4-inch ball valve easily connects to a standard garden hose. The barrels also have a child-proof locking lid, two built-in overflow ports and a primary overflow that directs water away from foundation.
Barrels nest inside one another for easy storage and transportation. Two Ivys easily fit in the backseat of a four-door sedan. The barrel easily attaches to a home's downspout, and the flow is gravity fed — no pumps required. They are made of 100 percent recycled plastic.