June is Great Outdoors Month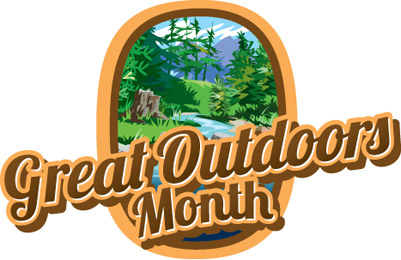 Celebrating our natural resources
Washington, D.C. — The nation's top elected officials don't seem to agree on much — but they completely agree that Americans need to spend more time in the nation's parks, forests, refuges and other public spaces.
Proclaimed by the President and each governor and celebrated annually in June, Great Outdoors Month is a bipartisan celebration of America's abundant and diverse outdoor recreation resources and the passion Americans have for conservation and volunteerism.
Great Outdoors Month has expanded, mirroring growth in outdoor recreation, which now generates more than $650 billion annually, and focuses public and private attention on the splendor and beauty of our shared natural resources. Champions of the month also note the contribution of time outdoors to mental and physical health.
Events across the country celebrate Great Outdoors Month and help Americans respond to calls by the President and the governors to hike, bike, fish, camp, boat and otherwise enjoy the outdoors.
The events include free fishing opportunities and more during National Fishing and Boating Week (June 1-8 ), thousands of work and fun events on American Hiking Society's National Trails Day (June 7 ), National Marina Day and National Get Outdoors Day, both offering easy introductions to outdoor fun (June 14), National Wildlife Federation's Great American Backyard Campout (June 28) and more. See information on Great Outdoors Month events at www.greatoutdoorsmonth.org.
National partners including The Coleman Company, OFF! and hundreds of federal, state, corporate and nonprofit organizations support Great Outdoors Month's goal to connect all Americans with our Great Outdoors — even reaching those who rarely get outdoors for healthy, active fun.
Most enjoyment of the Great Outdoors comes through visits to public lands and waters covering one-third of the nation, including state and national parks, national forests, wildlife refuges and federally-managed lakes. Yet many younger and urban Americans have trouble identifying fun outdoors things to do and where to go.
With little marketing and promotion and easily overlooked signage, many public recreation places are nearly invisible. Great Outdoors Month supporters seek to change that through social media and websites like www.recreation.gov and www.americasstateparks.org.
Coleman is helping families find the outdoors by "setting up camp" at many Walmart stores. Coleman's "Ranger Days" Tour features Coleman rangers, joined by representatives from state and federal land management agencies, highlighting America's vast outdoor recreation resources. Scouts will lead campsite demos and agency and not-for-profit partners will share "where to" and "how to" information.
Four Governors are holding Great Outdoors Month Capital Campouts, welcoming urban youth and families to camp out on the grounds of their governor's residence or in a nearby state park. 2014's hosts are Governors Sam Brownback (Kan.), Nathan Deal (Ga.), John Hickenlooper (Colo.) and Jay Inslee (Wash.).
Great Outdoors Month partners include America's State Parks, U.S. Fish and Wildlife Service, National Park Service, USDA Forest Service, American Recreation Coalition, American Hiking Society, the National Wildlife Federation and many others. To read the proclamations of Great Outdoors Month, go to www.greatoutdoorsmonth.org.
Prevent injuries during outdoor activities
Many people take advantage of nice weather by exercising in the great outdoors. Some might skip the treadmill at the gym in favor of running at the park, while others join recreational sports leagues for some exercise and fun in the sun.
But exercising outdoors carries its share of risk. Unlike gyms where machinery clearly advises members about proper form and warns against lifting excessive weight, Mother Nature comes with no such warning labels. As a result, it's up to men and women to make injury prevention a priority when taking their exercise routine outside. The following are a handful of preventative measures that can help exercise enthusiasts avoid injury as they attempt to get or stay fit in the great outdoors.
• Study the terrain. Part of the danger of exercising outdoors is that, unlike a gym fitted with machines designed for the sole purpose of exercise, nature's terrain is unpredictable. Safety features you take for granted at the gym, such as padded floors, are nonexistent outdoors. In addition, certain areas in nature might not be suitable to all athletes. For example, mountain biking is a popular sport, but not all mountain biking trails are the same. Some trails are ideal for beginners, while others are best ridden by more seasoned riders. When your outdoor exercise regimen will be taking you off the beaten path, be sure you know the terrain before you start your workout. Speak with fellow outdoor enthusiasts about which trails or courses are best for someone of your skill level and adhere to their recommendations. When exercising on a trail for the first time, bring a friend along so someone can go get help should an accident happen.
• Stay hydrated. Dehydration is another cause of injury when athletes exercise in the great outdoors. Gyms have water fountains that allow members to take a drink of water when they're thirsty. That water can help prevent dehydration, which can be painful and greatly increase your risk of injury. When exercising outdoors, be sure to bring along enough water so you can stay hydrated regardless of how far away from civilization you may find yourself.
• Honestly assess your abilities. When exercising outdoors, it's easy to overdo it. Warm air and sunshine have a way of encouraging athletes to prolong their workout routines or push themselves a little harder. But pushing yourself past your limits can considerably increase your risk of injury. While it's easy to stay within your limits when exercising indoors, where the environment may encourage you to cut a workout short rather than extend it, it's easy to overextend yourself outdoors when the weather is nice. So it's important for men and women to make an honest assessment of their abilities before beginning an outdoor exercise regimen. Once you know what your body can and can't handle, you can tailor your outdoor workout to one that makes the most of nice weather without putting your health at risk.
• Don't challenge Mother Nature. One of the biggest risks with regard to exercising outdoors is the tendency some athletes have to ignore the elements. Avoid working out in especially cold or hot weather, as such conditions are not conducive to exercise. Extreme weather also reduces the number of people outside, which means there won't be as many people around to help you if you suffer an injury, lose your way or need help with your gear. Exercising outdoors is a great way to enjoy nice weather, but limit such workouts to those times of year when temperatures are most conducive to outdoor activity.
Working out in the great outdoors is a great way to make the most of a beautiful day. But athletes must still take certain precautionary measures to reduce their risk of injury when exercising outdoors.
First-time camping basics
The Outdoor Foundation reports that roughly 40 million Americans go camping in a given year. Typical campers go on five camping trips per year, traveling an average of 191 miles from their home to the campground. Campers include friends on their trips 70 percent of the time, and hiking is the most popular camping trip activity.
Camping is a popular activity, but many curious would-be campers do not know where to get started. It can be tempting to purchase all of the gear needed and trek out in the woods to give it a try. But if camping is not all you expected it to be, you have just made a costly investment in a lot of equipment you are unlikely to use again.
Instead of jumping right in, first try to learn as much about camping as possible. Do your homework, learning about various camping styles and which ones you prefer. Does the idea of renting a recreational vehicle sound more inviting than sleeping in a tent? Would you prefer a campground with showers, toilets and other amenities or is roughing it in the great outdoors more appealing? Once prospective campers are able to find their camping path, they can explore all of the possibilities and give it a trial run.
Test the waters
There's bound to be a camping enthusiast in your midst. Find a friend or family member who enjoys camping out and find out if you can join him or her on his or her next trip. Take advantage of this person's supplies (you may need to purchase nominal equipment, such as a backpack and sleeping bag) and expertise. Such trips can provide some firsthand experience, and friends can offer advice on the keys to successful camping. It is generally easier to learn the ropes from someone who has experience choosing campsites and pitching tents, and this person also can offer suggestions about gear.
How rugged are you?
The definition of camping varies from camper to camper. For some, camping must include sleeping on a bedroll strewn out under the stars, while others may appreciate a few more luxuries on their camping excursions, like the running water or equipment offered at a campsite or park. Still, others do not want to leave the perks of home at home, preferring the comfortable living of a recreational vehicle. Nothing can end a camping excursion more quickly than discomfort and not enjoying the experience. It is better to figure out in advance just how rough you want things to be.
Rent before buying
Rent camping equipment to test out the gear you have in mind. This will give you an idea of everything from the sizes of tents to the type of cookware you may need. Renting is a less expensive approach for those who plan to camp sparingly.
If your first trip inspires a genuine love of camping, then you can purchase equipment. You can always begin with the basics and then expand as you find new gear that will enhance your camping experiences, asking camping enthusiasts and experts for recommendations on everything from gear to campsites and more.
Pointers for beginners
The first time you go camping on your own you will likely be a bit nervous. When looking for a campsite, find a level ground that is high up. You do not want to be rolling down a slope or find that the tide has come in and you're now floating inside your tent. But choose a spot with a nearby water supply as well. You will need it for cooking and cleaning up. Water is heavy to carry, so you do not want to have to transport it too far.
Never light a fire inside of your tent. Keep the fire for cooking and warmth away from sleeping quarters for safety's sake. Carbon monoxide can build up quickly, even inside a ventilated tent. Never leave a campfire burning unattended.
A campsite with a mix of sun and shade will help you feel most comfortable. Spending several hours in the blazing sun can compromise your energy levels and put you at risk for dehydration. It is a good idea to have a way to get out of the hot sun. Overhanging tree limbs also may buffer the tent from rain.
Food storage is another factor to consider when camping. You will be outdoors where wild animals reside, and a campsite can attract anything from small rodents to larger predators. Food should always be stored in insulated coolers that are not easily opened. Keep the food away from the tent so that animals will not rummage through sleeping quarters for snacks. Store garbage off the ground and out of reach of many animals. Dispose of garbage properly, ideally in covered trash receptacles. Animals accustomed to campsite food may be more daring than you would otherwise expect, so do not feed wildlife and keep food and trash out of reach.
Camping is a popular pastime and an activity tailor-made for warmer weather. But beginners should learn the ropes and test their equipment before investing too much time and money.
Outdoor safety tips
\
Outdoor enthusiasts typically cannot wait to get outside and make the most of a beautiful day. But in their haste to enjoy the great outdoors, men and women can easily overlook safety precautions that protect them from potential hazards.
Though it's easy to get excited about a sunny day, it's important for outdoor enthusiasts to take safety seriously. No matter your activity, always bring adequate sunscreen to protect your skin from the sun, and remember to bring enough water to stay hydrated throughout the day. In addition to packing sunscreen and water, outdoor enthusiasts can employ various additional safety methods depending on which activity they choose to enjoy.
Cycling
Cyclists must always be on alert for those with whom they are sharing the road. While many motorists respect cyclists, there are some who see cyclists as a nuisance, and such motorists may drive recklessly around cyclists in an attempt to scare them off the road. Cyclists are oftentimes at the mercy of motorists, so it pays to stay as attentive as possible. Never listen to an MP3 player or another music player while riding a bike. Such a distraction could prove deadly if it takes your attention away from the road. Alertness is important when cycling, as are the following precautionary measures:
• Always wear a helmet and reflective clothing that makes it easy for motorists to see you.
• Obey the traffic laws.
• Always ride with traffic.
• Inspect your bicycle and address any mechanical issues before each ride.
Hiking
When the weather permits, few activities combine the benefits of physical activity with the aesthetic appeal of nature as well as hiking does. Hikers should never hike on poorly developed trails or trails that are too difficult for them to handle, and they should have at least a basic understanding of the symptoms of altitude sickness. Always share your route with friends or family members before embarking on a hiking trip. This protects you if you should get lost or injured and you need a rescue team to find you. Hikers should also pack the following supplies before hitting the trails:
• Compass
• Flashlight and extra batteries
• Whistle and signal mirror
• Map of the park that includes the trails you plan to hike
• Waterproof matches
• First aid kit
• Blanket
Water sports
Water attracts the sun, so it's imperative that anyone planning to spend ample time on or around the water take steps to protect their skin. Wear appropriate clothing and apply sunscreen with a minimum sun protection factor of 15.
Never take to the water after you have consumed alcohol. Alcohol can dull your senses, making you less likely to recognize a dangerous situation should one present itself.
If you plan on entering the water, always enter feet first and do your best to avoid swimming alone. When you employ the buddy system while swimming, you are ensuring there is someone there to help you should you begin to struggle or to alert lifeguards or other safety personnel should something go awry.
If you to plan to fish on a boat, let your loved ones staying behind on land know where you plan to fish so they can share this information with authorities if your boat has problems or you don't return on time. While on the boat, always wear a flotation device and make sure the boat is not running as you board and dismount.
The great outdoors can be enjoyed throughout the year. But outdoor enthusiasts will have a much better time if they take the necessary steps to reduce their risk of injury.