Just one more time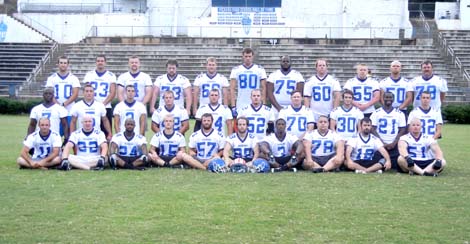 PHS alumni get another chance on gridiron
PICKENS — Many young men have roamed the halls of Pickens High School through the years.
A select number have walked those same halls very distracted on Fridays, though not by pretty girls or thoughts of the weekend ahead. Rather, these young men have had their focus and mental energy fixated on the battle that awaited them that Friday night on the gridiron. They've sweat, bled, laughed and cried together. They've shared the triumph of victory and the sting of defeat as one unit, with one heartbeat.
These young men are the Pickens High School Blue Flame.
Eventually those days come to an end, and these young men turn into fathers and husbands and begin their careers. Many of them find themselves awake at night each year as the smell of fall fills the air, recalling those days in pads and helmet.
The men can be heard to say "I would give anything to play the game one more time…"
That day has come.
Alumni Football USA has provided an opportunity to former gladiators of the gridiron all over the country to relive their glory days, and Pickens alumni have their chance this Saturday to take the field once more.
The Blue Flame alumni team, which consists of more than 30 players who graduated from 1983-2011, will be battling the Trannsylvania County alumni, comprised of players from Rosman and Brevard High Schools, this Saturday at Bruce Field, the former home of the Blue Flame.
It is a full-contact, high school rules game that promises to be a slugfest.
Beyond providing an opportunity for former players to play the game they love, the main purpose of the game is to raise money for student athletes.
Fans can buy tickets at the door, but organizers urge everyone to buy their tickets pregame, as 50 percent of those ticket sales go to the Blue Flame Touchdown Club. The Touchdown Club is a non-profit organization that raises money for Pickens athletic teams and athletes from the rec level all the way through high school, and contributes through purchasing new equipment, uniforms, school supplies for individuals that need help, etc.
Tickets are $10 apiece and are available in Pickens at JD Sports, Bilo, and Heidi's Hot Dogs. Tickets can also be purchased through Josh Dorr and Matthew "Stump" Brannan. Call (864) 238-6070 for Josh or (864) 637-8675 for Stump.