Lady Blue Flame weightlifting team competes at state meet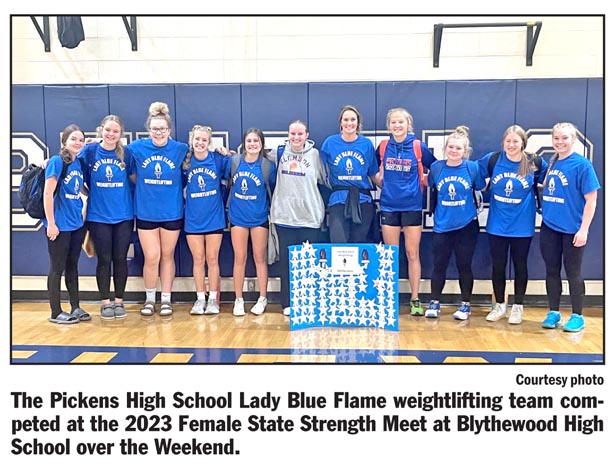 BLYTHEWOOD — The Pickens High School Lady Blue Flame weightlifting team made school history on Saturday at the SCHSSCA Female State Strength Meet at Blythewood High School.
The ladies represented well, with half the team getting personal records on back squats, including three of these records reaching over 200lbs. Pickens also had two
You must be logged in to view this content.  
ladies finish in the top 10 in the varsity division.
Members of the Lady Blue Flame weightlifting team include: Anna Claire Durham, Charley Musslewhite, Charlee Blankenship, Sadie McKinney, Kinsley Simmons, Marissa Tate, Kayleigh Reichhart, Lynnlee Wilson, Aubrey Richardson and Ella Harned
While proud of the accomplishment, Pickens coach Brittany Kelley was most pleased with the fundraising efforts of her team.
"I am most proud that the class raised $1150 for Fisher House in honor of Veterans Day. These funds were raised in just three short days," Kelley exclaimed. "The ladies proudly displayed the names of over 60 veterans in the gym as they competed. One of these special veterans, Frank Looper Jr., was in attendance. Frank is the grandfather of Aubrey Richardson."
Kelley said her class was honored and grateful to have Col. Fisher of the Fisher House Foundation speak last week and educate them on how Fisher House Foundation helps veterans.
Kelley also made sure to thank the team's many supporters.
"We'd like to thank Chief Beach and the Pickens PD for providing a police escort out of town," Kelley said. "Thank you to Dr. Butler for joining us to help with anything the team needed and providing lunch! We'd also like to thank Coach Ellenburg for having t-shirts made in time for the meet, and to all of the parents and Coach Vining for making the drive to support. Special thanks to my father, Tim Alexander, for taking his entire Saturday to drive the bus for us!"