Larry Martin receives public service award
Columbia — Se. Larry Martin, R-Pickens, received the Public Service Award recently from the South Carolina Victim Assistance Network. The award is given for outstanding leadership in combating domestic violence.
"I'm grateful for this recognition and very appreciative of all the great work that this organization does," Martin said. "I'm proud to be a part of their efforts and I know that with their help and their leadership in this state, South Carolina will continue to work hard to protect the victims of domestic violence."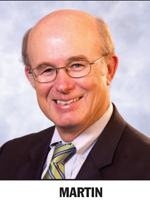 The mission of the South Carolina Victim Assistance is provide support services for victims and to prevent future crimes through advocacy, education, public awareness and technical assistance.
Martin was first elected to the South Carolina Senate in 1992 and represents Pickens County in District 2.